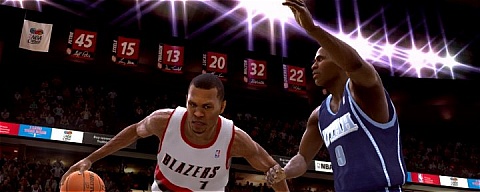 In a surprise early release the demo for NBA Live 09 is now available for the 360. Given that this is a Thursday it could also bode well for the PS3 receiving it today, though no confirmation of that is available at this time. The demo wasn't expected to be out until the second or third week of the month.
In the demo you can Play as the Celtics vs Lakers but EA has given the opportunity to play with them from different points in the season as a way to showcase the Live 365 and Player DNA features. You can play with them as current, from the 11/23/07 game, or from the 6/8/08 NBA Finals game. You can also shoot around in the practice gym. Several settings can be changed for the demo including difficulty level, sliders, rules, and camera angle. The quarter length is locked in at two minutes for one half of play.
Feel free to leave your thoughts on the demo in the comments or forum. I'll have some videos up tonight and through the weekend along with some comparison thoughts to the build I played back at the community event.