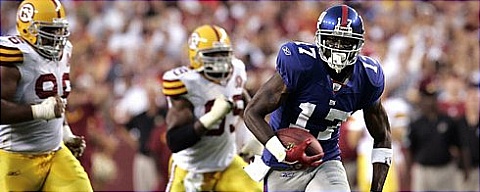 355- Not used to a game being on this early during the week. I don't know but it doesn't have the same feel the opener normally has when it starts before many people are even home from work.
356- Make sure you get your choice in for this game in the Pick'em! Only a few minutes until it locks.
404- Over/under on Brett Favre references tonight? I'd put the line at 4.
408- FYI, copy of NHL 09 may be in tomorrow.
411- Someone might want to cover that Burress fellow.
415- Pretty cool over at NFL.com you can watch the game live from several different camera angles. The NBA did that for the playoff games last year too.
419- Well this opening drive doesn't bode well for the Skins. Given how they looked in the preseason and how long it can take to get the flow of the west coast offense it could be a long night for them.
422- In the pick'em it looks like 80% or so of the people went for the Giants. Not a big surprise there.
431- So it seems like people are generally enjoying the NBA Live 09 demo. I think my feelings on it, that it is improved but has some basic issues that weren't completely resolved from 08, continues to be the case. I'll try and get up another video tonight.
438- I'm all excited about ordering pasta from Pizza Hut only to find out they don't deliver to me. (Sigh)
443- Wow the punter got laid out there. Congrats Washington on a first down!
458- Week ones can be deceiving, but damn if the Redskins don't have "last place" stamped all over them. Hard to be encouraged by a single thing we've seen out of them so far.
459- It looks hilarious to see "Chad Ocho Cinco" on all things NFL. Going to be fun to see him in that jersey. Big $ for him as sales will be huge.
506- Another great offensive series from Washington. (Yawn)
517- The way this game is going the Giants should be up more than 16-0. Despite that there certainly doesn't even seem to be a faint hope that the Redskins will challenge them.
525- Well Washington really needed that. I'm not sure it doesn't feel a lot like a fluke drive though.
528- I'm amused by the reaction to the third "teaser" trailer released for NBA 2K9 today. I think people are justified in being frustrated when Live has multiple videos, hands-on impressions, and a demo out and 2K is still doing the "teaser" thing.
530- Though it might be even more suspect that NCAA Basketball 09 hasn't even been officially announced, yet alone have a cover athlete or even be available for pre-order with just over two months until release. That is way outside EA's MO.
555- Apparently the NY fans are already disinterested.
558- Nice signing by the Ravens in picking up Willie Anderson.
600- Unsurprisingly most of the reviews for Facebreaker have been mediocre and I think going at the game in such a direct way for reviewing purposes probably in part leads to that. The community aspects of the game may be the most enjoyable part and that isn't something really reflected by those.
602- On the other hand it'll be interesting to see if NHL and Live 09 get review bumps due to adding in revolutionary features and modes. Looking back on NCAA Football now I don't think it got the proper credit for Online Dynasty.
603- Too soon for NY fans to boo Eli Manning???
610- I hope Heroes gets back on track. Other than the addition of Kristen Bell the second season was forgettable.
621- Success! I was able to get Pizza Hut to deliver my pasta 🙂 I must've seen that commercial 10 times by now throughout the game.
631- If Plaxico stays healthy and focused all year he could put up MVP type numbers. Already 10 catches in this game.
645- Even though Washington has stayed within striking range like I said earlier you really didn't get the feeling they were going to break through. The Giants definitely should've put up more points tonight with the way they've been able to move the ball.
648- It's just week one though, which generally isn't a great representation of how the team will shape up for the year. It's just tough to take much positive out of this game for Washington. I like Zorn a lot but they may be in for a rough year if the offense can't get in sync.
657- People in Vegas still interested about the ending to this game. A Redskins TD would swing a lot of money.
700- Wow last play and Kiwanuka gets hurt. That could be devastating to the Giants if its anything serious.
701- And the game ends at the perfect time to switch over to the RNC coverage. Couldn't have worked out any better for the NFL and the networks.
705- Alright I'm going to work on getting a couple Live videos up for late tonight/morning. Thanks for following along!