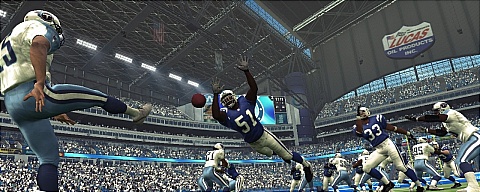 Never would I have imagined the news of the second roster update for Madden 09 would turn into such a dramatic event. With EA stating that the update would be out sometime today people were ready to grab it just in time for the opening Sunday slate of NFL games. As time passed and the possibility of it not arriving today became more and more apparent the frustration erupted resulting in the second most commented article in the history of the site. While much of that sentiment is justified some certainly took things over the line though it does raise an interesting discussion.
Last year the updates came at about a rate of once every three weeks which seemed sufficient then. It was just a stretch from mid-November to early January where no updates came that killed that momentum. The second update for Madden 08 came on the Friday before opening Sunday. Not having the rosters this year by now seems to have hit a real sore point in the community.
We are heading into the releases of NBA Live 09 and NBA 2K9 both of which are providing updated rosters in a unique but advanced way. Live uses its 365 which will update the game on a daily basis with not just transactions and starters/reserves but also tendencies and streaks. NBA 2K9's big news appears to have leaked in that the game will update anytime a change is made to the rosters on NBA.com, though this would seem to be limited to just the rosters and not ratings or anything else along those lines.
As consumers become accustomed to this they are going to expect more frequent and more accurate roster updates in other titles as well. Given the popularity and exposure of one like Madden that is certainly a reasonable expectation to have. Madden has the NFL license so if it were to come to something like drawing the rosters off the official depth charts on NFL.com that shouldn't seem like a far fetched idea. They would still have to go in and make adjustments to areas such as ratings and player appearance manually but the resources should be there to make it a more fluid process.
Once the season begins the roster updates become more about ratings and injuries than about player movement. What makes this second update so anticipated is that there are a lot of those. Hopefully they get it out ASAP and evaluate better ways to offer the roster updates next year.