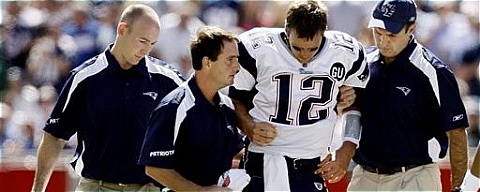 In an ironic turn of events the injury that appears to have ended Tom Brady's season will also put a big hole in the delayed roster update for Madden 09 that has been heavily discussed over the weekend. The relief that will come when the update finally does arrive will only be followed by the anticipation of the next one given the dramatic ramifications of the injury. The update will already be severely out of date.
While it was absent some recent transactions (along with not including Chad Johnson's name change to Ocho Cinco) this injury will impact online play to an extent only imagined by a handful of players in the league.
So that just brings back the importance of finding a better roster updating solution. If this was one of the NBA games than Tom Brady may have been dropped down the depth chart or placed on the IR as early as tomorrow. While the Patriots will still have a strong team with Randy Moss at WR their appeal certainly will be greatly diminished to the online crowd.