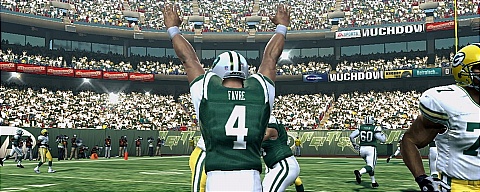 In an interview with Gamasutra EA Sports president Peter Moore stated that the sales for Madden 09 are up 6% over 08 and have accounted for $133.5 million in retail sales. Despite pre-orders being down, both NCAA and Madden produced strong sales numbers besting last year. This is being attributed primarily to the improved quality of the product.
We've also seen other elements come into play this year, with which their affect on sales would be arguable. The first is the community interaction that actually affected the final product and gave consumers a voice into how Madden would shape up. Another would be the move to make the game more accessible and allow novices a chance to work their way in (adaptive difficulty, Rewind).
Official NPD sales numbers will released this Thursday and will offer an opportunity to look at them in more detail. For example with NCAA it was interesting to note that the 360 version did not see any increase in sales whereas the PS3 picked up 86,000 and the Wii languished in obscurity.