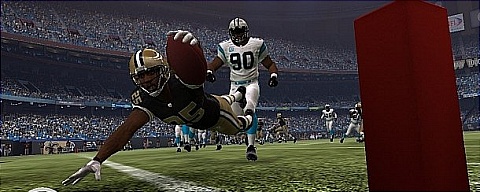 Official NPD sales numbers for August have been released and as expected it was Madden that dominated the month. A few days ago EA Sports president Peter Moore talked about the 6% sales increase and now we have the detailed breakdown. Dollar wise thanks to a shift towards the more expensive 360/PS3 versions as well as the Collector's Edition it was a bigger pickup than just the total sales would represent.
360: 1,000,000 (+103,400)
PS3: 643,000 (+306,800)
Wii: 115,800 (+20,000)
PS2: 424,500 (-219,100)
Xbox: Unknown. (-100,000 estimate)
Looking back on NCAA Football 09's numbers that franchise saw no change to 360 sales despite the increased user base. Here Madden has received a solid increase on the 360. As with NCAA it was the PS3 picking up the most new buyers somewhat closing the gap between the two HD systems. Within the next couple years the split may end up closer to even.
Meanwhile All-Play on the Wii looks to be a bust. Even though the game was improved and had more casual friendly features the sales remained flat. This is made especially concerning because of the much larger user base compared to the previous year. It may just be time to realize a sim sports game (outside of Tiger Woods) isn't going to have much if any room for growth on that console.
It looks like this was the year that consumers dove into Madden thanks to the positive buzz leading up to and through release. The attrition to the PS2 was not that severe and the 360/PS3 picked up more than just what the PS2 and original Xbox lost.