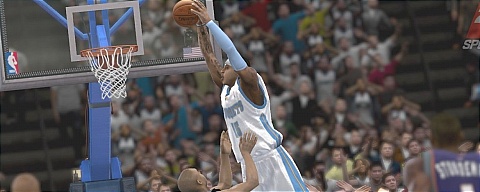 The highly touted announcement for NBA 2K9 turns out in part to be Living Rosters which has been known for a few weeks now. The difference though is that it will not be predicated on changes to NBA.com as previously believed, but instead will be done manually whenever it is warranted. In essence it appears as though 2K has assigned the task of roster updates to an individual who will remain active throughout the season in providing them.
As with the competition, you can expect to see roster and attribute changes when you download a new 2K roster in NBA 2K9, all based around what's happening in the real world. However, rather than update things on a daily basis, 2K devs told us that the plan was to change a roster when it was warranted. Naturally big-time injuries or huge trades will be reflected in the game on a timely basis. What seems to set 2K9 apart, however, is how those changes are made and how much they can add to the gameplay experience.
Given that quality frequent roster updates have been lacking from 2K titles in the past the dedication to doing them is certainly a welcome change. It will remain to be seen though how well this method will meet the desires of the community. The Living Rosters may not be revolutionary. However the ability for 2K to add in new animations may be a more exciting aspect to look forward to.
If Deron Williams continues his success of last season or O.J. Mayo begins to dominate during his maiden campaign in the NBA, you can expect to see not just attribute bonuses but actual new animations available to that player as the season progresses. These new animation packages will be mo-capped, produced, and added during the course of the season by 2K devs and added to deserving players who have excelled during the season (or perhaps even developed a new signature move). In other words, this is new content developed during and relevant to the 2008/09 NBA season, not merely unlockable animation packages that are already in the game.
You can check out the full hands-on preview at Gamespot here as well as some new screenshots including ones taken from Association mode here.