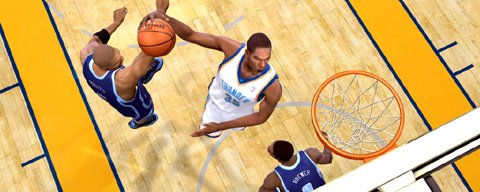 Yesterday videos from NBA 2K9 showed off the Oklahoma City Thunder's home white uniforms that aren't scheduled to be revealed until tomorrow. While those videos have been removed from the website which put them out they did make their way to Youtube with the first quarter here and second quarter here.
Now the NBA has actually done the same thing only with NBA Live 09. NBA.com has a screenshot preview of the season featuring images from Live 09, one of which is a Kevin Durant dunk as seen above.
While the official jerseys are shipping with 2K9 they are not in Live. The jerseys will be added for Live on release day through a patch or free downloadable content (it is unclear which way it will be delivered).