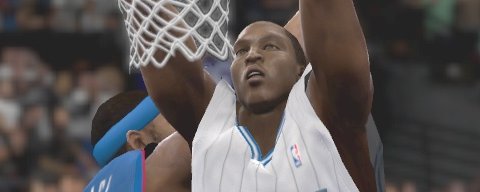 Earlier today I had the chance to sit in on the NBA 2K9 developer conference call. Various media outlets were given the opportunity to present questions in advance that would be addressed during the call. Generally these 2K calls are pretty informative but given the amount already known about the game, the demo being out, and others who have retail copies already there wasn't much additional to be added. At the same time it is always good to hear directly from those involved in making the game and hear about more personal topics such as their favorite improvements or additions.
Because there wasn't a whole lot for me to relay regarding the call I've also included a couple videos from running through the demo. Continue on for a short recap and those videos.
The main focus this year was providing the "full package expereince". Practically every aspect of the game was improved upon. Some of the areas that will be immediately evident are with presentation, AI, and graphics. At the same time additional features were added such as the Player DNA and ability to trade created players with 2K Share, 5 on 5 online play, and The Other Season reverse fantasy league.
While 2K8 was highly regarded there was sure to be areas that needed to be worked on. Through feedback the team feels that they addressed many, if not all, of the major gripes fans had with the game last year. One that was specifically mentioned was the lead pass.
Association mode also received a big upgrade with the NBA.com presentation of news and stats. There is now also the ability to turn on or off everything so that users can customize the experience they want to have. When something is turned off the assistant coaches will automatically take care of it instead of having to do it manually.
The game does include alternate and throwback jerseys, something that apparently neither of the other two NBA titles can lay claim to. The biggest graphics improvement is being seen in player faces, which may be due in large part to the skin looking much more realistic. While I haven't ever really felt comfortable with the shot stick, it has received enhancements which allow for many more offensive options such as changing the shot in mid-air, controlling when to shoot a floater, and attempting to draw fouls. So far from the demo I'm enjoying that feature more than in the past.
Of course the Living Rosters and 2K Insider was discussed at length. While this is essentially just a promise to update rosters more often, what had been the most intriguing element was how they will be able to give players new animations throughout the year. The way it sounds is that players performing better or worse than expected will receive or lose animations to balance out how well they play. They've now stated that they are "unlockable" animations, meaning that someone could be given one of Kobe Bryant's animations. It isn't as though they are going to mo-cap a new dunk that someone just did and add that to the game.
Overall I don't think anyone is going to be surprised by NBA 2K9. Those familiar with the franchise will almost certainly find it a satisfying experience enhanced by the wide ranging gameplay improvements and feature additions.