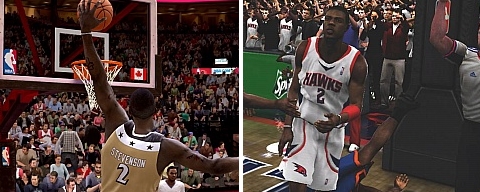 Over the next week I will be accepting entries for a highlight clip contest featuring NBA Live 09 and NBA 2K9. Create them within the games with consideration given towards the actual play shown as well as the overall style of the video. You can enter as many clips as you like for either or both games. The clips must remain active on the websites throughout the duration of the contest.
Through the respective community sites, EA Sports World and 2K Community, upload your highlight and then send me a link to your entry via the contact form. Please make sure to include a valid email address when filling out the contact form as well as your Xbox Gamertag or PSN name.
I will be selecting five of my favorites for each game and then posting those up to be voted on to determine the winner. The person who submitted the highlight receiving the highest number of votes for each game will receive a $25 gift card to Amazon.com. Make sure to send in your clips by the end of the day on Wednesday the 22nd and the voting will begin heading into that weekend.