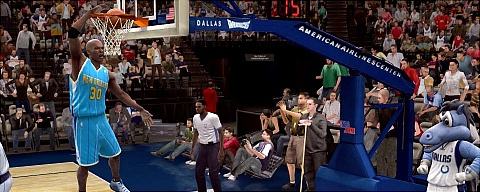 Last night I was finally a member of a victorious group in the NBA Live 09 Pasta Padre club. I had felt doomed after having lost most of the games with the EASHL club and starting up with Live and having lost every game previously. It was a really good feeling to get the win, especially since we played well as a team from start to finish and despite the continued overly fast pace it was probably the most controlled matchup thus far.
After a rough start the club seems to have settled down and has won five of the last nine games. Once the improvements are made to the mode I'm confident the level of success will increase even more. Continue on for recaps from both the 360 and PS3 clubs and the full game video of the victory.
First to start off over on the PS3 side thanks to CDJ of NCAA Strategies for writing up how the evening went. Anyone who would like an invite make sure to leave your PSN name in the comments and he'll get you added in.
Online tonight were DaBulls_12, andybaseball, and cdj. Numerous attempts to find a foe for the Pasta Utopia OTP Club failed, so the team played a regular OTP game. The match-up was Chicago at New York with nine players among the two teams.
Early in the game, someone on Chicago found it humorous to keep calling timeouts and eventually that led to the Knicks getting a significant lead in the first quarter. This led to many on the two teams dropping out, but fortunately the guilty party left as well. The Bulls utilized an aggressive defense and were able to rally back with strong play in the second and fourth quarters.
The game featured very slight lag, only noticed on free throw attempts and over-pursuit on defense (over-running defenders). For the first time playing, it went very well with only a few items of feedback: The color code under the players does not seem to be the same for everyone playing. The player controlling Hinrich happened to be the guilty party calling timeouts and had a yellow circle under his feet on my screen. However, on andybaseball's screen it was a red icon. The lack of coordination of icon colors makes it tougher for players to yell out icon color when calling for a pass. The second item of possible improvement would be to leave the defender 'danger' icon on all game. In the heat of the battle, the offensive player can get lost and if playing on a SDTV, it may be impossible to determine which player you should be looking for if the icon is missing. Finally, having to wait for three members to get online for a Club OTP game can be tough for those groups with few members. While only having two humans on a team may mean more reliance on CPU play, it would lead to more OTP Club games being played.
Overall, the game was a lot of fun – especially rallying back from an early deficit. The Bulls used a lot of screens and cuts to get open and easy shots.
Hopefully next week we can field a full PS3 team and have an easier time finding a club foe. If interesting in joining, leave your PSN ID in the comments section.
Box score:
CHI: 16 – 18 – 12 – 19 — 65
NYK: 25 – 7 – 13 – 9 — 54
POG: Drew Gooden: 23 pts, 7 reb, 4 ast, 3 steals, 2 blocks (DaBulls_12)
Luol Deng: 15 pts, 3 reb, 2 ast (cdj)
And now on to the 360 side where it was four of us taking on a full team of five in two games, the first of which I recorded and can be watched below. I also added the box score and my rating for the game (as Morris Peterson) in which we came out on top.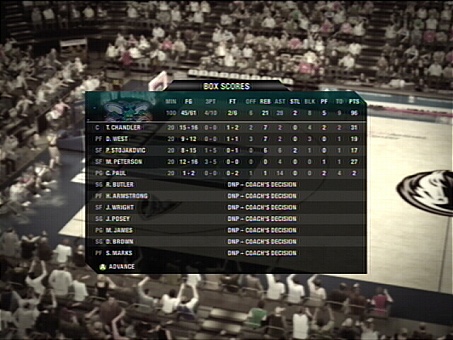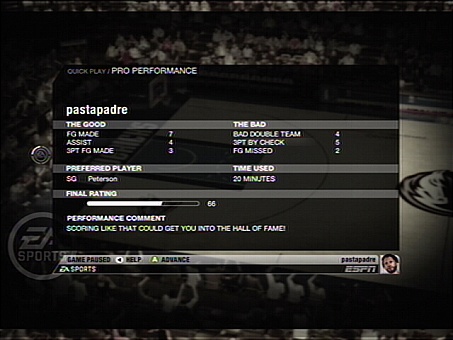 In addition to the impressions and suggestions I've already posted we discussed a couple things that would be better off changed. The first is that we really wish we didn't have to hear the other team on the mics before the games start during the ready up screen and the lineup screen. I can maybe understand this for unranked games, but there is little to no reason to chat with your opponents in ranked games.
Another is the animation that you sometimes get stuck in after a made basket, Tyson Chandler faced this pretty often and because of it couldn't get back on defense. Given the fast pace of the gameplay in OTP right now that created too many easy opportunities for the opposition who pushed the ball down the court quickly.
While I like the grading system it doesn't always record things correctly. There were times I got a "bad double team" detraction because I was running after a guy on a fast break and couldn't catch up to him before he dunked it. I believe we also saw a blocked shot go out of bounds and detract from someone as a turnover. So hopefully EA can improve on the grading system while also adding more categories in the future. Taking a charge would be a good one for example, while fouling with less than a few seconds on the shot clock could be a negative one. There are many different aspects of the game that could be considered in team play while grading out a performance.