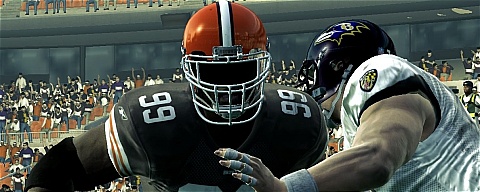 Last week I stated that it was unlikely that the planned downloadable content for Madden 09 would ever make its way out. Today that was made official as producer Phil Frazier has confirmed that there will be no downloadable content this year. The original plan was to include some community requests such as CPU sliders and accelerated clock and for free at that. It is fair to expect that those things will now be included in Madden 2010. Below is the full statement from Phil Frazier which covers several topics.
Two Months and Counting…
It's been two months since Madden was released and what a ride it's been. Overall, the feedback on 09 has been tremendous and we appreciate all of the thought provided to us via the forums. It really has been a pleasure chatting with our most important fans.
It's been a few weeks since the very important update #2 was released. The majority of people having freezing issues before the update seem to have solved the problem simply by downloading the update and clearing the Madden data from their drive. This update fixed many issues and the great news is that the community helped shape the improvements that were made. Changes like increasing the time AI QB's make before snapping the ball came straight from your feedback and ultimately helped improve the game.
There has been some discussion on whether or not we plan to do a third update or DLC. I'd like to provide an update on both. Update #3? At this point, we are not planning to release another update. We will continue to listen to our fans and if any other widespread issues come up we may change this plan but the fixes made in update #2 solved all of the major problems people were experiencing with the game. Those that continued to have problems had success after completely wiping their old Madden data from their hard drive.
DLC? Shortly before the release of Madden NFL 09, we had mentioned that we were looking into the possibility of releasing some post-launch DLC. At this point, DLC isn't in the cards. Providing DLC is something that will stay on our radar down the road and is certainly something we'd love to provide to our most passionate fans, however at this stage we are no longer actively looking into this for 09. As you all probably noticed this morning, we released our 8th roster update of the season. After some early issues in getting these released before the weekend, we've made a pretty big effort in improving our process to get these to you by Friday. We'll continue to provide these updates weekly through the season and do appreciate your feedback on the ratings and depth chart information. That information definitely makes it to our roster team.
Some of you also probably noticed a new feature in the game recently. About a week ago, we launched a test tournament that allows the entire online community to compete to win prizes. As of a few days ago, more than 85 thousand fans registered for the test tournament and many of the top players have played close to or more than 100 games that apply to the tournament. Expect a more high profile tournament soon, probably around Halloween.
As mentioned before, the feedback on 09 has been great- so thanks and keep it coming! We are VERY aware of the desires of the community, and we keep a running list of 'demands' that we continuously evaluate. Many of these WILL be added to the next iteration of the game. We're looking to provide information on the next version of the game earlier than ever so look forward to the end of the NFL season. We're hoping to start some more detailed conversations and early looks at the game around the Super Bowl. Until then, keep giving us your feedback so we can fold it into our plan for next year.
Phil