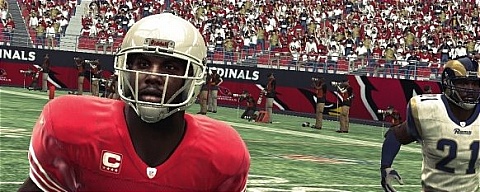 The ninth roster update for Madden 09 is tentatively scheduled to release on Friday. The Bills get some love this week, but the Cowboys somehow escape without any downgrades on defense, only one point lost on the offensive line, and Pacman Jones remains on the roster.
Continue on for all the transactions, ratings up/down, injuries, and contract extensions.
Transactions
S Herana-Daze Jones – Released to Free Agents (IR)
CB Geoff Pope – Signs with Bengals
C Kyle Cook – Released by Bengals (IR)
C Andrew Crummey – Signs with Bengals
FB Reagan Mauia – Signs with Bengals
WR Chad Jackson – Signs with Broncos
LB Matt McCoy – Released by Bucs
WR Brian Clark – Signs with Bucs
C Al Johnson – Released by Cardinals
K Nick Novak – Released by Chiefs
QB Quinn Gray – Signs with Chiefs
K Connor Barth – Signs with Chiefs
HB Chad Simpson – Added to Colts
WR Sam Hurd – Released to Free Agents (IR)
FS Chris Crocker – Released by Dolphins
S Tyrone Culver – Signs with Dolphins
FS J.R. Reed – Released by Eagles
FB Kyle Eckel – Signs with Eagles
T Kirk Barton – Released by Dolphins/Signs with 49ers
WR John Standeford – Signs with Lions
RT Ryan O'Callaghan – Released to Free Agents (IR)
HB BenJarvus Green-Ellis – Added to Patriots
TE Ben Troupe – Released to Free Agents (IR)
LB Robert Thomas – Signs with Raiders
T Devin Clark – Added to Redskins (Practice Squad)
TE Sean Ryan – Released by Saints
WR Courtney Roby – Signs with Saints
P Steve Weatherford – Released by Saints
P Ben Graham – Signs with Saints
WR Billy McMullen – Released by Seahawks
LB Will Herring – Added to Seahawks
HB Chris Taylor – Released to Free Agents (IR)
FB Thomas Tapeh – Released by Vikings
LB Napoleon Harris – Signs with Vikings
LB Rufus Alexander – Signs with Vikings/Released by Vikings
LB Erin Henderson – Released by Vikings/Signs with Vikings
FB Lousaka Polite – Added to Free Agents
TE Mike Merritt – Added to Free Agents
T Joe Toledo – Removed
LB Tony Taylor – Added to Free Agents
LB Robert James – Added to Free Agents
HB Chris Barclay – Added to Free Agents
HB Tyson Thompson – Added to Free Agents
S Ethan Kilmer – Added to Free Agents
HB Kenneth Darby – Added to Free Agents
DE Sean Conover – Added to Free Agents
CB Derrick Martin – Added to Free Agents
TE Edgar Jones – Added to Free Agents
CB Torrie Cox – Added to Free Agents
S Donte Nicholson – Added to Free Agents
Ratings up
CB Corey Graham – Bears – 71 to 75 – Has climbed up the depth chart due to the banged up Chicago secondary. Bears sport a nice secondary once everyone is back.
QB Trent Edwards – Bills – 82 to 83 – Was impeccable vs. the Charger secondary in a win in week 7.
RT Langston Walker – Bills – 86 to 88 – Due to his solid blocking on the right side Edwards was untouched vs. San Diego.
TE Robert Royal – Bills – 81 to 83 – Check down option for Edwards. Tied for third on the team in receptions with 17.
CB Jabari Greer – Bills – 83 to 84 – Has been doing a fantastic job this season in coverage. His Madden rating has come a long way since beginning of last year.
LT Ryan Clady – Broncos – 82 to 84 – Extremely athletic left tackle for the Broncos. The sky is the limit for this guy.
CB Brandon McDonald – Browns – 82 to 83 – Has been doing a solid job in coverage considering the lack of pass rush in Cleveland.
CB Aqib Talib – Bucs – 80 to 81 – Now has 3 INT's in his rookie year out of Kansas. Ball hawk.
WR Antonio Bryant – Bucs – 79 to 81 – Might have taken a starting WR spot in Tampa with his play this season.
WR Malcolm Floyd – Chargers – 73 to 74 – With Chambers and Buster Davis out has stepped up the past two weeks and might have cemented a spot in the rotation.
QB Chad Pennington – Dolphins – 84 to 85 – Continues to make smart decisions even in a tough loss to the Ravens. Was pick sixed in on a nice play by Suggs.
LB Joey Porter – Dolphins – 89 to 90 – Continues to rack up sacks and QB pressures for the Dolphins.
S Yeremiah Bell – Dolphins – 84 to 86 – The best player in the Miami secondary. Had a crucial strip on McGahee that the Dolphins couldn't cash in on.
LT Sam Baker – Falcons – 80 to 83 – Missed time with a concussion earlier in the season but when in the lineup has given up 1 sack.
WR Josh Morgan – 49ers – 73 to 75 – Besides inexplicably kicking the ball through the back of the endzone for a safety; has earned a starting job due to his playmaking ability.
CB Tramon Williams – Packers – 78 to 81 – Showed he is a legitimate corner in the league by doing an excellent job on whatever Colts receiver he was on in week 7, mostly Anthony Gonzalez.
CB Will Blackmon – Packers – 73 to 77 – Along with Williams stepped up in the secondary vs. the Colts. Basically an athlete coming out of college has developed into a nickel/dime corner.
CB Charles Woodson – Packers – 92 to 93 – With the exception of losing his footing too often, has maybe displayed better instincts than any corner on his INT's. There won't be a better free safety if he ever makes the transition.
FS Nick Collins – Packers – 87 to 88 – Returned a gift wrapped pick for another TD Sunday vs. the Colts. Is around the ball more which could not be said about him in previous years.
QB Jake Delhomme – Panthers – 86 to 87 – Continued his sharp passing with Steve Smith back in the lineup.
HB Sammy Morris – Patriots – 81 to 83 – Ran all over the Broncos in a sharp first half on Monday night. Looks to be the primary ball carrier with the injury to Maroney.
QB Matt Cassell – Patriots – 76 to 77 – Had a nice game vs. the Broncos secondary on Monday night.
DE Trevor Scott – Raiders – 69 to 71 – Made a nice inside move vs. the Jets RT (Damien Woody) on one of his two sacks on the day.
LB Ricky Brown – Raiders – 75 to 77 – The other LB that starts for the Raiders. Had 8 tackles in week 7.
C Nick Leckey – Rams – 72 to 76 – Has started every game for the Rams this season taking over for former starter Brett Romberg.
WR Donnie Avery – Rams – 76 to 78 – Looked like a true deep ball threat vs. the Cowboys on Sunday including a near miss TD on a bomb from Bulger.
LB Ray Lewis – Ravens – 94 to 95 – Is playing arguably his best season. Looks better playing behind Justin Bannan at nose tackle.
CB Shawn Springs – Redskins – 88 to 90 – Is hurt now. Before he got hurt he was playing the teams #1 WR and playing tight coverage.
S Chris Horton – Redskins – 78 to 80 – His first game looked like a fluke when he had 2 INT's handed to him, but he looks like a keeper due to his ability to be around the ball.
CB Carlos Rogers – Redskins – 90 to 91 – Looks all the way back from a season ending injury a year ago. He has been very sharp the past couple weeks in particular.
LB James Harrison – Steelers – 93 to 94 – Trails Ware by 0.5 sacks for the leader in sacks. A beast. Still needs to perform better against elite tackles.
LB LaMarr Woodley – Steelers – 84 to 86 – Has 7.5 sacks in his first season starting. Pairs with Harrison to form one of the top OLB combo's.
HB Mewelde Moore – Steelers – 80 to 81 – Feasted on Cincy in the second half in a route. Has earned some carries whenever Parker comes back.
G Darnell Stapleton – Steelers – 72 to 76 – Inserted into the starting lineup after a season ending injury to the starter.
WR Santonio Holmes – Steelers – 86 to 87 – Blew past a what's his name? on Cincy for his first TD on the season in week 7.
HB Steve Slaton – Texans – 82 to 83 – Averaging close to 5.0 YPC with 4 TD's and has 0 fumbles which was a problem in college and early in camp.
HB Chris Johnson – Titans – 83 to 85 – Averaging 5.3 YPC with 3 TD's. Carved up KC for 168 yards in week 7.
LG Eugene Amano – Titans – 80 to 84 – First year as a starter lining up at LG for Tennessee.
Ratings Down
LT Levi Jones – Bengals – 87 to 85 – Got beat a couple more times for sacks in week 7.
DE Luis Castillo – Chargers – 93 to 91 – A lot of good things have been said about this guy. Not translating to the football field this season.
LT Flozell Adams – Cowboys – 94 to 93 – Has had a heck of a time with two past their prime pass rushers the past two weeks (Bertrand Berry and Leonard Little).
DT Glenn Dorsey – Chiefs – 84 to 80 – Has been invisible and the Chiefs have been getting killed on the ground, especially to the Titans in week 7.
QB J.T. O'Sullivan – 49ers – 79 to 78 – Everyone's golden boy has 10 INT's on the season and has fumbled 9 times. Blocking has been bad, but those numbers are not NFL caliber.
CB Aaron Ross – Giants – 87 to 86 – Has been having a tough time staying on his feet and not giving up touchdowns the past couple weeks.
CB Leigh Bodden – Lions – 90 to 89 – Took a beating vs. the Texans and Andre Johnson in man coverage on Sunday.
DT Chuck Darby – Lions – 83 to 81- Has 10 tackles on the season and appears to be getting phased out.
RT Gosder Cherilus – Lions – 77 to 75 – Detroit flip flops this 1st round pick with a punch line (George Foster) at RT.
DE KGB – Packers – 85 to 83 – Continues to fail to impress. Now a bigger part of the rotation which will not help the Packers inability to stop the run.
CB Fred Bennett – Texans – 84 to 83 – Has slid down the depth chart after a nice rookie season. Had tight man coverage on a deep ball to Calvin Johnson though.
LT Bryant McKinnie – Vikings – 96 to 95 – Maybe still getting his feet under him after the suspension but is not looking good, and was whooped by Ogunleye in week 7.
S Darren Sharper – Vikings – 91 to 90 – Is not making plays anymore. Took the worst angle possible on Marty Bookers long TD reception in week 7.
Injuries
LB Keith Rivers – Bengals – IR
LB Boss Bailey – Broncos – IR
QB Brodie Croyle – Chiefs – IR
S Roy Williams – Cowboys – IR
HB Laurence Maroney – Patriots – IR
S Rodney Harrison – Patriots – IR
Contracts
C Eric Heitmann – 49ers – 4 years