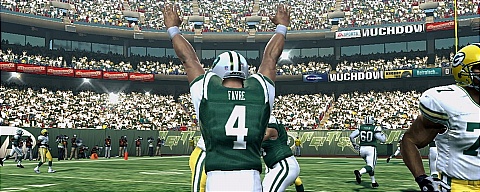 Earlier today Peter Moore stated to Bloomberg that the cover of next year's Madden may go to the highest bidder. The proceeds would then be donated to the United Way Foundation. The decision on whether this will happen has not yet been made but the possibility is being discussed.
There's no question that many players would pay for the opportunity to be on the cover. Up until now the athlete has been determined by previous season performance, or in the case of Brett Favre the entirety of his career. After that discussions would proceed if the player was interested. The money paid to the athlete has always been relatively minimal, somewhere between $100,000-200,000. While LaDainian Tomlinson has turned down the cover because he wanted to be compensated more, most players jump at the chance without much regard to pay and consider it an honor.
I think this is a pretty cool idea especially with the money going to charity. It would be fun to find out who was bidding and who came out on top. No one is going to make a choice one way or the other on buying Madden based solely on the cover athlete, and EA can still go to some of the top players for marketing the game.
Do you think it would be a good idea to auction off the cover with the proceeds going to United Way? If so who would you hope would make a push to be the highest bidder?