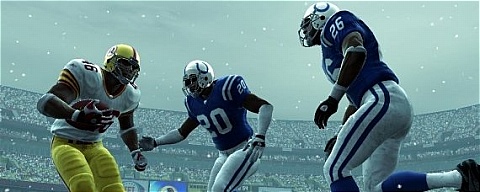 Entering week nine of the regular season and EA is preparing to push out the tenth roster update for Madden 09 tomorrow. The consistency they've provided with these updates has been a great development. While a game such as NBA Live has the 365 feature updating automatically and on a daily basis, for Madden most people would be content with the weekly updates that are now being provided. From here it is just a matter of them improving on what the updates cover as far as who should change and by how many ratings points.
Continue on to view all of the transactions, ratings changes, injuries, and contract extensions.
Update: The roster has hit a technical snag and won't be out until early next week.
Transactions
FB Reagan Mauia – Released to Free Agents (IR)
S Corey Lynch – Released to Free Agents (IR)
S Oliver Celestin – Released by Cardinals
TE Stephen Spach – Signs with Cardinals
T Andrew Carnahan – Signs with Chiefs
G Tre Stallings – Removed
CB Keiwan Ratliff – Released by Colts
CB Nick Graham – Signs with Colts
CB Joey Thomas – Signs with Dolphins
FB Lousaka Polite – Signs with Dolphins
TE Jason Rader – Released by Falcons
LT Wayne Gandy – Signs with Falcons
QB Erik Ainge – Released to Free Agents (IR)
K John Carney – Added to Giants
G Chris Naeole – Released to Free Agents (IR)
S Chad Nkang – Signs with Jaguars
DT Langston Moore – Released by Lions
FB Darian Barnes – Signs with Lions
S Antwain Spann – Added to Patriots
FB Jason Davis – Signs with Raiders
TE Daniel Fells – Added to Rams
WR Demetrius Williams – Released to Free Agents (IR)
WR Terrance Copper – Signs with Ravens
K Garrett Hartley – Signs with Saints
K Taylor Mehlhaff – Released by Saints
P Ben Graham – Released by Saints
P Glenn Pakulak – Signs with Saints
LB Patrick Bailey – Signs with Steelers
LB Donovan Woods – Released by Steelers
LB Marcus Buggs – Added to Free Agents
CB Josh Bell – Added to Free Agents
LT Matt Murphy – Added to Free Agents
QB Darrell Hackney – Added to Free Agents
LB Eric Henderson – Added to Free Agents
T Oliver Ross – Added to Free Agents
CB Mike Richardson – Added to Free Agents
QB Daunte Culpepper – Added to Free Agents
Ratings up
CB Jabari Greer – Bills – 84 to 85 – Has played well and played extensively last week with McGee struggling.
HB Fred Jackson – Bills – 80 to 81 – Continues to catch passes, return kickoffs and even lead block on TD runs for Lynch.
S Bryan Scott – Bills – 72 to 77 – Has been in heavy rotation the past couple weeks for the Bills.
C Duke Preston – Bills – 76 to 77 – Has filled in for Melvin Fowler at Center for the Bills.
DT Shaun Rogers – Browns – 94 to 95 – Played a dominate game vs. the Jaguars. Racked up 9 tackles and a sack a stretch of sheer dominance when he stopped MJD at the line then blocked a kick and recovered it.
LB D'Qwell Jackson – Browns – 85 to 86 – The leading tackler for the Browns by 30 tackles with 66 on the year.
LT Donald Penn – Bucs – 82 to 84 – Did a very solid job blocking vs. DeMarcus Ware and the Cowboys.
WR Steve Breaston – Cardinals – 82 to 83 – Continued to develop and looks more and more like a #2 receiver at the very least.
CB Orlando Scandrick – Cowboys – 75 to 76 – Playing well with Mike Jenkins as the Cowboys battle injuries in the secondary.
CB Andre Goodman – Dolphins – 72 to 74 – Has been elevated to the starting lineup with a season ending injury to Michael Lehan. Made a couple plays vs. the Bills in week 8.
LB Joey Porter – Dolphins – 90 to 92 – Now leads the NFL in sacks after two more vs. the Bills. Blew past pro bowl LT Jason Peters to the inside on one of them.
WR Roddy White – Falcons – 90 to 92 – Is a certifiable monster at WR. Battled tight coverage from Asante Samuel all day on his way to two scores.
WR Matt Jones – Jaguars – 80 to 81 – Continues to lead the Jags in catches and yards. With a potential suspension looming, has 38 catches and 455 yards.
CB Chris Gamble – Panthers – 89 to 90 – 3rd on the team in tackles with 48 tackles and has 11 passes defended.
CB Ken Lucas – Panthers – 88 to 89 –Lucas has 2 INT's and 9 passes defended on the season.
DE Chris Long – Rams – 84 to 86 – The bright spot on defense for the Rams. Starting to really come on the past several weeks.
QB Joe Flacco – Ravens – 77 to 79 – Has a bad TD to INT ratio but is completing 62% of his passes with a less than stellar group at the skill positions.
QB Jason Campbell – Redskins – 87 to 88 – Whether or not you think he is a good Quarterback or not; there is something to be said about not turning over the ball. Campbell still has 0 INT's while some QB's are in double digits.
WR Santana Moss- Redskins – 87 to 88 – Has had some explosive games this season, also some terrible dropped passes.
TE Billy Miller – Saints – 74 to 76 – Has picked up the extra receptions Shockey and Colston left on the field when they were injured.
RT Ray Willis – Seahawks – 72 to 78 – Has played at both tackle spots due to injuries. Has played better than the starting RT that was given an extension over the offseason.
DE Aaron Smith – Steelers – 94 to 95 – His health coincides the Steelers defensive rank. When he is in there they are #1 the past two seasons; when he is not they are above average.
S Troy Polamalu – Steelers – 97 to 98 – The best safety so far this season. Looking extremely active in coverage.
S Michael Griffin – Titans – 89 to 90 – Not suffering a sophomore slump like some of the big name second year safeties.
K Rob Bironas – Titans – 91 to 94 – 13/14 on the year in field goals after a solid season last year kicking.
Ratings Down
DE Mark Anderson – Bears – 84 to 82 – Had a great rookie season. Has done next to nothing in year 3.
S Marlon McCree – Broncos – 79 to 74 – Benched recently on one of the worst secondary's in football.
CB Karl Paymah – Broncos – 79 to 77 – Not getting much help from the defensive line via rushing the passer or stopping the run, but still not working out as the nickel.
CB Terrence McGee – Bills – 93 to 92 – Had a rough game to say the least in his first game starting back from injury. Was a liability against Ted Ginn and Greg Camarillo.
LB Willie McGinest – Browns – 84 to 81 – A heady player who can't get it done anymore. Last year in Cleveland or any team for that matter most likely.
DE Jacques Cesaire – Chargers – 83 to 81 – Had a good season last year rushing the passer, this year not as much.
DE Igor Olshansky – Chargers – 83 to 82 – The Chargers have already admitted he won't be back. Not very productive in his career.
WR Marvin Harrison – Colts – 96 to 95 – Appears to have lost a step the past few weeks. Not really able to get open against a good Titans secondary or against only average DB's in Green Bay.
QB Brad Johnson – Cowboys – 78 to 77 – Appears to no longer possess an NFL caliber arm. Bad Johnson seems appropriate.
CB Anthony Henry – Cowboys – 87 to 86 – Looks to be one of those corners QB's find at the line of scrimmage. Doesn't have the ability to play corner anymore. The Cowboys need to get healthy so they can put him at safety.
QB J.T. O'Sullivan – 49ers – 78 to 77 – Has now been benched after a wild ride of INT's, poor blocking, dropped passes and fumbles. Shaun Hill might not be the answer, but he gets rid of the ball unlike Sullivan.
WR Bryant Johnson – 49ers – 82 to 79 – Has been demoted after the 49ers signed him from the Cardinals in free agency. No complaints from the Cardinals I bet.
WR Arnaz Battle – 49ers – 82 to 80 – Your basic run of the mill NFL slot receiver that should be replaced.
C Brad Meester – Jaguars – 93 to 92 – First game back from injury – meet Shaun Rogers. Rogers had a banner day vs. Meester and the rest of the Jags interior line.
WR Jerry Porter – Jaguars – 84 to 83 – Continues to be a non-factor on the Jaguars.
WR Troy Williamson – Jaguars – 78 to 75 – Has 3 catches for 17 yards on the year. Just a guy blessed with speed playing WR.
LB Vernon Gholston – Jets – 80 to 79 – A little slow to make the transition from end to OLB. Currently has 6 tackles and doesn't seem close to cracking the starting lineup anytime soon.
FS Dwight Smith – Lions – 86 to 84 – Is injured now but when he was in there QB's were still putting up record numbers.
G Edwin Mulitalo – Lions – 79 to 75 – Has now been finally benched for Damion Cook.
LB Ernie Sims – Lions – 94 to 93 – Not the star most people were expecting currently. Still gets a lot of tackles but that's gonna happen when your down by 21 in the 4th quarter.
LB Will Witherspoon – Rams – 92 to 91 – Having an off year in the middle for the Rams. Definitely possesses the body of an OLB.
DT Adam Carriker – Rams – 89 to 86 – Has not played up to his potential from his rookie year and is in somewhat of a sophomore slump.
RT Alex Barron – Rams – 85 to 83 – Whiffs attempting to pass block too often.
DT Sedric Ellis – Saints – 84 to 80 – Just got back from injury but has not looked like the monster he did at USC.
RT Sean Locklear – Seahawks – 86 to 84 – On the verge of being replaced at RT.
LG Chris Kemoeatu – Steelers – 81 to 79 – A mauler in the run game who doesn't fare as well in the pass blocking game.
RT Willie Colon – Steelers – 80 to 79 – Not starting quality caliber in the NFL.
WR Limas Sweed – Steelers – 79 to 77 – Not doing a whole lot with most of the rookie WR class.
Injuries
LB John DiGiorgio – Bills – IR
QB Damon Huard – Chiefs – IR
CB Michael Lehan – Dolphins – IR
HB Jesse Chatman – Jets – IR
Contracts
K John Kasay – Panthers – 5 years (total)