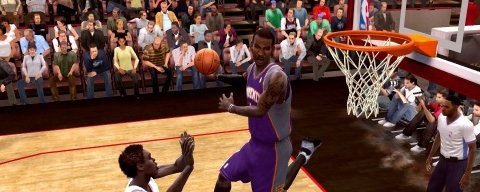 Everyone is excited to experience the immediate impact that comes with NBA Live 09's 365 feature. I know I have been looking forward to profiling how it is changing the game on a daily basis. With the season now underway we await the first update however I have been informed that it won't be coming until tomorrow. They decided to wait until every team played their first game. From then on the updates will arrive daily.
The last NBA teams will play their first game on Thursday (10/30). To accurately reflect what happened for every team's first game in NBA LIVE 09, we're going to turn on NBA LIVE 365 on Friday morning (10/31) for everyone that input a code on the insert inside the NBA LIVE 09 packaging. Once every team plays their first game, you will see your daily changes as promised.
The Live 09 team has done an admirable job in updating the basics so far, and they'll need to continue to do so in terms of many of the ratings categories, player appearances, and accessories. 365 will only affect a few ratings, player and team DNA, and streaks.
Along with a look at the first 365 update the highlight contest will be up this weekend.