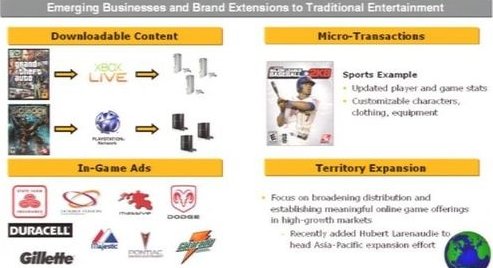 Amongst discussion on how multiple companies including EA are attempting to combat the lost revenue from used sales comes more talk on the subject, this time from the head of Take Two Strauss Zelnick. The presentation at the BMO Capital Market's Conference was accompanied by the image above which uses the example of 2K Sports' MLB series and how they could benefit from micro-transactions.
When EA Sports canceled many of the PC offerings for this year I predicted a move towards free-to-play with micro-transaction and subscription based or advertising supported gaming in the future for the PC. It's what has been done successfully in Asia with games such as NBA Street Online. While that shift has been used to counter piracy the same goals behind it could provide another way to compensate for the lost sales that are largely being caused due to the practices of Gamestop.
EA's NBA Live 365 may be a blueprint of what 2K is looking at providing in the future with their mention of "updated player and game stats". EA's initial hope was to provide the feature free this year via code and then charge for it in the future. I think right now it has become apparent that while it is an excellent feature, few would pay for it on top of the regular purchase of the game. It is a fine line to walk in offering expanded content but avoiding alienating the general consumers.
EA Sports doesn't have much of a different view from Take Two on where things are headed. In an interview with Peter Moore he stated that the future of gaming includes "the EA Freestyle label, subscription-based gaming, heavily online-oriented titles, content creation tools, and digital distribution."
Ultimately it is the consumer that will decide the direction these companies take. If the game is good, and the offered additional content is good, people will probably support it. If the game is a disappointment or if the content isn't compelling then people won't pay for it and the companies will take notice of that.