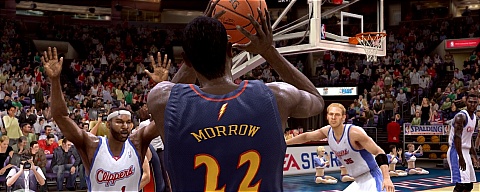 What I previously labeled as the first test for NBA Live 09's 365 feature and NBA 2K9's Insider was the Allen Iverson for Chauncey Billups trade. 2K9 got the trade completed first and should get credit for doing so. With the 365 feature updating only after a player has appeared with their new team that means 2K will be able to implement player movement faster than Live if they choose to do so.
The biggest story in the NBA this weekend was the emergence of an undrafted rookie for the Golden State Warriors. Anthony Morrow had 37 points and 11 rebounds in his first start. That point total broke the record for any undrafted player in their rookie season. Prior to playing the Clippers on Saturday, Morrow had averaged 7.7 points in the three other games he had appeared in.
NBA Live 09 currently has Morrow in and his DNA is reflective of his performance through his first three games, however 365 is still running a few days behind schedule so it doesn't have Saturday's performance factored in yet. He is listed as the starting PG for the team in the latest update. Obviously ratings changes will need to be considered (he is currently in as a 63 overall). As Morrow did not ship on the game the 365 feature added him in after appearing for the first time. That means his appearance and accessories can still use some tweaking such as receiving the orange headband.
As for NBA 2K9? Morrow isn't even in the game. So that is something to monitor as far as how long it takes for Morrow to appear and how well he is represented. It seems that so far players being added in roster updates just take on all the characteristics of some other NBA player that was already in 2K9.
So while 2K Insider had the edge in implementing the trade faster it is clear that Live 365 is much more effective with adding new players in.