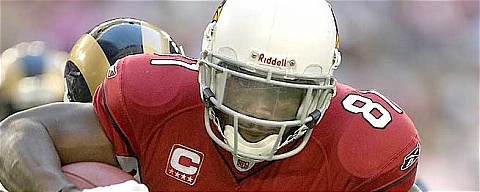 A couple weeks ago I listed out who I believed to be at the time the top five candidates for the Madden 2010 cover. The voting slanted heavily towards Redskins RB Clinton Portis with Saints QB Drew Brees as the runner-up.
One name that has vaulted himself into contention over the past few weeks that I did not have in that group is Cardinals WR Anquan Boldin. Having seen him in person on Sunday only impressed me more. What makes his recent performances even more remarkable is that they come after showing the incredible toughness of returning only three weeks after the injury that resulted in him having to get eight plates inserted into his face and wiring in his jaw.
The Cardinals are using him all over the field including in the Wildcat formation made popular by the Dolphins this year. He is averaging nearly eight receptions 100 yards and a TD a game. The Cardinals have all but clinched the NFC West.
The only concern over Boldin is that he still desires a trade in the off-season and EA would generally hesitate to put someone on the cover who may end up in a different uniform.
The Madden series has never had a wide receiver on the cover. This may be the year if Boldin continues to perform on this level. In the poll below I'd like to hear which WR, that could arguably be considered as the most likely possibilities for the cover, would you choose to receive the honor if the decision was made today?
{democracy:50}