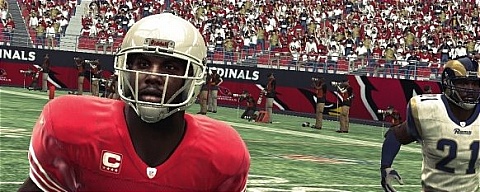 With it being a holiday week the roster update for Madden 09 is set to be out tomorrow, Tuesday November 25th. This is the 13th update of the season and given the shorter period of time to put it together it isn't quite as extensive as the previous ones. However there are a few notable changes such as the rating drop for Donovan McNabb , increase for Tyler Thigpen. and Felix Jones moving to IR. I'm still waiting on the significant boosts that Anquan Boldin and Matt Cassel deserve.
Continue on for the full details of all the changes including transactions, ratings up/down, injuries, and contract extension.
Transactions
CB Simeon Castille – Signs with Bengals
LB Marcus Buggs – Released to FA IR
TE Nate Jackson – Released to FA IR
S Josh Barrett – Added to FA
S Roderick Rogers – Signs with Broncos
TE Chad Mustard – Signs with Broncos
HB Noah Herron – Added to FA
LB Curtis Gatewood – Added to FA
LB Rob Ninkovich – Released by Dolphins
LB Erik Walden – Signs with Dolphins
WR Eric Weems – Added to FA
S Stuart Schweigert – Signs with Lions
TE Tyson DeVree – Added to FA
T Chad Slaughter – Added to FA
DE Brandon Miller – Signs with Seahawks
DE Jesse Nading – Signs with Texans
LB Kevis Coley – Signs with Texans
CB Eric King – Released to FA IR
CB Reynaldo Hill – Released to FA IR
CB Tyrone Poole – Signs with Titans
CB Tuff Harris – Signs with Titans
DE Earl Cochran – Released to FA IR
S C.C. Brown – Released to FA IR

Ratings Up
QB Tyler Thigpen – Chiefs – 75 to 78 – Has displayed good arm strength in the Kansas City spread offense. The top fantasy QB over the last month heading into week 12.
HB Michael Turner – Falcons – 89 to 90 – Topped the 1,000 yard mark in a monster 4 TD game vs. the Panthers in a big division win.
CB Corey Webster – Giants – 87 to 88 – While Ross was committing penalties and struggling Webster was playing solid man coverage. Webster is playing at a very high level this season.
DT Kris Jenkins – Jets – 94 to 95 – Has made the biggest difference of any free agent acquisition on the defensive end. The Jets rank #3 against the run and Jenkins has thrived as the nose in the Jets 3-4.
CB Chris Johnson – Raiders – 70 to 74 – Was picked on starting opposite Asomugha and played well vs. Denver. The Raiders pass defense is shaping into the strength of the team.
LB James Farrior – Steelers – 92 to 94 – Has not slipped a bit in his 12th season. The Steeler D is as good as ever and Farrior is having one of his best seasons.

Ratings Down
DE Elvis Dumervil – Broncos – 89 to 87 – Has 3 sacks this season when Denver needs a pass rush. No sacks in the last 4 games.
QB Donovan McNabb – Eagles – 93 to 91 – The uncertainty at the WR position sure hasn't helped but his completion percentage is under 60% and he has been tailing off in prior weeks. Is still by far the best option they have and is still a top QB.
HB Fred Taylor – Jaguars – 94 to 93 – Disappointing season but the skills are still there. Big losses on the offensive line have hurt Taylor's ability to run. His 3.6 YPC and no rushing TD's are way down this year.
QB David Garrard – Jaguars – 92 to 91 – The Jags didn't have 9 TD's/8 INT's and a 4-7 record when they signed Garrard to an extension. To his defense the Jags have underperformed at about every position.
Injuries
CB Johnathan Joseph – Bengals – IR
WR Buster Davis – Chargers – IR
HB Felix Jones – Cowboys – IR

Contracts
WR Greg Camarillo – Dolphins – 4 years total