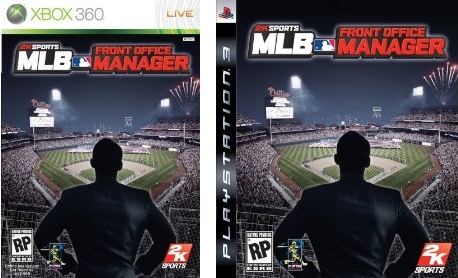 The cover art for MLB Front Office Manager is now out as well as the official feature list. As to the features for the most part they have been discussed through the various interviews and previews out so far and the Online Fantasy Leagues remain especially intriguing. While I was expecting to see Billy Beane incorporated into the cover instead they went the direction of a silhouette, with the implication of course being that you are now the GM.
Build Your Roster –An extremely deep Career Mode takes users beyond simple trades and free signings, and allows them to fully experience the life of an MLB® general manager. Manage Minor League™ rosters, set domestic and international scouting budgets, bid for Japanese free agents, select new players in the Amateur and Rule 5 Drafts, offer arbitration to free agents, and more.
Take The Field – Manage your team's games on the field all season long and enjoy a never-before-seen presentation style designed to resemble a real life TV broadcast.
Learn From a Pro – Renowned GM Billy Beane becomes a mentor to users, providing helpful tips and insightful baseball information that even the biggest fan doesn't know.
Online Fantasy Leagues – Customize your league with fantasy drafts, modified rules and traditional Rotisserie and Head-to-Head fantasy baseball scoring systems. Also available offline against the CPU. Innovative Baseball Statistics – Evaluate talent using in-depth and authentic player statistics, as used by Billy Beane.