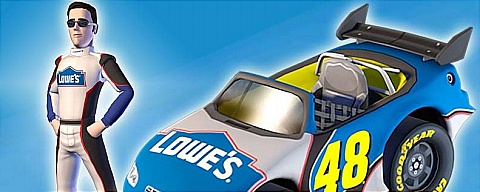 Not long ago I posted about the introduction of Nascar to the Wii. Rather than a sim representation EA Sports decided to go with a Kart theme. While my general feeling that the Wii audience won't be interested in a game with Nascar in the title still stands, we do have some more details on Nascar Kart Racing via ESPN's Jon Robinson which make it sounds as though it could turn out to be a fun game.
So what should you expect? How about Jeff Gordon and Tony Stewart dropping oil slicks behind them as they race for first, the Dover monster starring as an actual monster on the track, and teammates who are able to work together to slingshot one another to first place.
The game is currently slated for a February 10th release at a price of $39.99. Recent titles on the Wii have been disappointments as has the start to the Freestyle brand. That is more than enough reason to remain skeptical. It will be interesting to see if they can successfully mesh a sport that has very little casual attraction and create a game that will be appealing to consumers who aren't fans of Nascar.