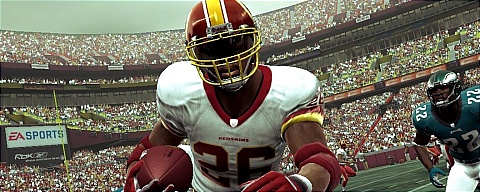 The 14th roster update for Madden 09 is expected to be available tomorrow December 5th. This one appears to be more significant than the last several weeks. Maybe as we cross into the final quarter of the season certain players who have emerged can't be ignored any longer and others who have not lived up to expectations are receiving corrections.
With weekly updates it has limited the jump or drop players have seen in their ratings. Regardless of that players like Steve Slaton should receive more than a single point boost which in itself is practically nothing. Same on the other end where a Chad Johnson drops a single point down to a still way too high 96 despite a sub-par season.
Continue on for the list of transactions, ratings changes, injuries, and contract extensions.
Transactions
DE Ervin Baldwin – Signs with Bears
WR Brandon Rideau – Signs with Bears
G Evan Mathis – Signs with Bengals
DE Josh Mallard – Signs with Bengals
T Kirk Barton – Signs with Bengals
FB Andrew Pinnock – Signs with Broncos
S Josh Barrett – Signs with Broncos
QB Bruce Gradkowski – Signs with Browns
CB Michael Adams – Signs with Cardinals
P Dirk Johnson – Released by Cardinals
P Ben Graham – Signs with Cardinals
LB Curtis Gatewood – Signs with Chiefs
LB Carlos Polk – Added to Cowboys
G/C Al Johnson – Signs with Dolphins
G Milford Brown – Released by Jaguars
DT Jimmy Kennedy – Released by Jaguars
DE Jeremy Mincey – Added to Jaguars
CB Omare Lowe – Released by Jaguars
P Steve Weatherford – Signs with Jaguars
TE George Wrighster – Added to Jaguars
WR Keary Colbert – Signs with Lions
DT Alfred Malone – Signs with Packers
LB Vince Redd – Added to Free Agents
LB Rosevelt Colvin – Signs with Patriots
G Junius Coston – Released by Raiders
G Dylan Gandy – Signs with Raiders
FB Dan Kreider – Released by Rams
FB/TE Daniel Fells – Signs with Rams
C Cory Withrow – Signs with Rams
HB Shaun Alexander – Released by Redskins
DT Ryan Boschetti – Signs with Redskins
CB Leigh Torrence – Signs with Saints
DE Josh Savage – Signs with Saints
DT Scott Paxson – Signs with Steelers
CB Fernando Bryant – Signs with Steelers
P Mitch Berger – Signs with Steelers
P Paul Ernster – Released by Steelers
Ratings Up*
CB Corey Graham – Bears – 76 to 77 – Will step into the starting lineup with the season ending injury to Vasher.
HB Matt Forte – Bears – 84 to 85 – Is up there with Chris Johnson and Slaton as top rookie back.
CB Brandon McDonald – Browns – 78 to 80 – Took his one week benching in stride making some big plays in solid coverage vs. Reggie Wayne.
DT Shaun Rogers – Browns – 96 to 97 – Should line up next to Albert Haynesworth in the starting lineup for the AFC Pro Bowl. One move that worked for Cleveland acquiring Rogers for Leigh Bodden.
DE Kevin Carter – Bucs – 82 to 85 – The Bucs brought him back and he has rewarded them with very good play against the run and getting to the passer.
DE Jimmy Wilkerson – Bucs – 77 to 80 – Has been thriving and playing very well as a defensive sub for Tampa.
LB Derrick Brooks – Bucs – 93 to 94 – Whispers that he was fading were exaggerated, looks very good in pass coverage.
LT Donald Penn – Bucs – 84 to 88 – A dominant pass blocker at LT who should be considered for the Pro Bowl.
CB Ronde Barber – Bucs – 91 to 92 – Has been making plays in weeks past after looking washed up earlier in the season.
WR Antonio Bryant – Bucs – 81 to 86 – Looks very big and strong as the #1 in Tampa. Very fluid running his routes and looks good after the catch.
DE Dwight Freeney – Colts – 95 to 96 – Gave Joe Thomas a beating in last week's game. His bull rush is as good as ever and put Thomas on his back.
DE Robert Mathis – Colts – 95 to 96 – Worked with Freeney to win won in Cleveland when the offense had nothing.
WR Davone Bess – Dolphins – 74 to 76 – Looks he will pick up the slack with the season ending injury to Greg Camarillo. He has some experience catching tons of passes from Colt Brennan at Hawaii.
DE Justin Tuck – Giants – 94 to 95 – Last year's most underrated Madden player has played above expectations.
WR Domenik Hixon – Giants – 76 to 79 – Showed he is ready to take the next step by showing ability to separate from Carlos Rogers. Will be looked upon more with the loss of Burress.
CB Al Harris – Packers – 92 to 94 – With the uncertainty that has been looming with the Green Bay secondary, Al Harris has been superb since his return from injury.
CB Chris Gamble – Panthers – 90 to 92 – Just was rewarded with a contract extension for his solid play this season, never had been consistent before but is so this season.
S Charles Godfrey – Panthers – 77 to 79 – After playing CB in college has transitioned nicely to the FS position.
HB DeAngelo Williams – Panthers – 85 to 86 – Blew up for 4 TD's and has played better since the emergence of Jonathan Stewart.
G Travelle Wharton – Panthers – 88 to 89 – Has been Carolina's most consistent lineman.
DE Charles Johnson – Panthers – 77 to 78 – Was getting a monster push in last week's game vs. Green Bay.
CB Randall Gay – Saints – 82 to 84 – Has been solid this season. The best player in the Saints secondary.
HB Pierre Thomas – Saints – 78 to 83 – Looks to have his role expanded even more with Deuce being suspended.
LB James Harrison – Steelers – 96 to 97 – Is defensive MVP through 13 weeks.
HB Steve Slaton – Texans – 83 to 84 – Looked very fast in his big day on Monday night. He looks great in the Texans zone blocking scheme.
G Mike Brisiel – Texans – 78 to 83 – Has done a nice job in his first full year as a starting lineman.
C Chris Myers – Texans – 80 to 82 – Worked well with the right side to open up huge holes for Slaton to fly through.
WR Andre Johnson – Texans – 96 to 97 – Has taken the next step as a dominate WR. Looks like a big created player out there.
DE Jared Allen – Vikings – 97 to 98 – One of the most disruptive forces in football. Bucs LT Penn held him in check, besides that he has been dominating opposing tackles.
*Many more ratings changes
Ratings Down *
WR Chad Johnson – Bengals – 97 to 96 – Has displayed unsteady hands and has not been on his game this season.
WR Donte Stallworth – Browns – 85 to 81 – Has underachieved on every team unless the QB is Tom Brady. A free agent bomb along with the acquisition of Corey Williams.
TE Kellen Winslow – Browns – 97 to 95 – Will never be 100% again. Is still a top TE but he won't be able to be durable again.
S Clinton Hart – Chargers – 85 to 82 – Has been abused by TE's all year in pass coverage.
TE Antonio Gates – Chargers – 97 to 96 – Is unable to move and separate anymore. Does not appear to be near 100%.
CB Patrick Surtain – Chiefs – 87 to 84 – The Chiefs have moved on and will officially do so after the season.
S Bob Sanders – Colts – 98 to 97 – Has been plagued by injuries again this season. Troy P and Ed Reed should be the top 2 safeties.
WR Marvin Harrison – Colts – 94 to 92 – His inability to separate now must be alarming to the Colts.
LB Vernon Gholston – Jets – 79 to 74 – Had chances in last week's game to make plays and didn't. Is only rated a 74 based on pure potential at picking up OLB because now he looks slow.
*Many more ratings changes
Injuries
CB Nathan Vasher – Bears – IR
DT Dusty Dvoracek – Bears – IR
G Andrew Whitworth – Bengals – IR
S Marvin White – Bengals – IR
DE Robert Geathers – Bengals – IR
DT John McCargo – Bills – IR
QB Brady Quinn – Browns – IR
QB Derek Anderson – Browns – IR
G Ryan Lilja – Colts – IR
G Kyle Kosier – Cowboys – IR
WR Greg Camarillo – Dolphins – IR
G Justin Smiley – Dolphins – IR
S Sammy Knight – Giants – (Off depth chart)
WR Javon Walker – Raiders – IR
Contracts
DT Jonathan Babineaux – Falcons – 6 years total
WR Michael Jenkins – Falcons – 5 years total
CB Chris Gamble – Panthers – 7 years total