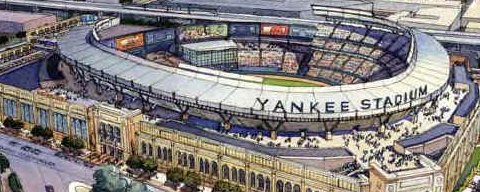 The first item related to MLB 09: The Show has just made its way out, and it isn't the cover athlete announcement. Though from the loading screen it may have been revealed that it is Dustin Pedroia. Footage from an SCEA event earlier today shows the new Yankee stadium in game. Appscout has a report from the event and mentions graphical improvements such as progressive lighting.
This being New York City, we naturally picked the Bronx bombers for our sneak preview. Once we fired up the game, we were met with a pleasant surprise–the new Yankee stadium. This being the 2009 baseball season, the virtual Yankees had since moved across the street to the new and improved version of their famous Bronx home.
Continue on for the video which includes the team select screen through the loading process and a fly through of the new stadium including the first pitch of the game.
Update: The video has been pulled down, and now the story has as well. Hopefully some of you got to see it. It did seemingly provide the cover athlete and noted a few improvements such as how they've added over 700 animations while the article mentioned the progressive lighting. I'm also relieved to see that there didn't appear to be any changes made to the pitching system. Hopefully that is the case with hitting as well.