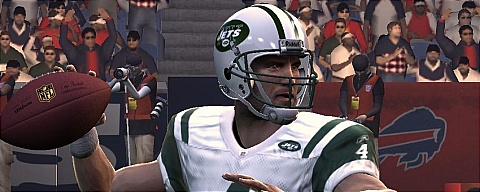 The biggest name in US sports gaming is by far Madden. Along with Fight Night they are the two sports franchises that transcend the genre. While there is a certain level of discontent surrounding Madden 09 within online communities there is no doubt that the majority continue to enjoy the franchise a great deal. This year though it was just eclipsed by several other games that either provided innovative modes and features or delivered better gameplay for their respective sports.
When I first played Madden 09 I fully believed it was the game that everyone was hoping for. To a certain extent it was. Solid enjoyable gameplay, much improved presentation and some innovation in the way of the adaptive difficulty. I think most people upon first playing the game were taken in by the leap made going from 08 to 09.
However I soon realized that it just didn't have the staying power of some of the other titles this year and I've rarely played it since release. There just isn't much reason to with what the other games have provided. The overall experience in Madden 09 is just rather bland. I'm still bothered by omissions such as a form of Home Field Advantage. When an element of the sport that large is not even represented in the game it is difficult to fully immerse yourself in the experience and believe that it is a valid one.
One of the best developments that came with 09 is the community interaction from the Madden team. That led to some direct changes being made and it is worth noting how that interaction resulted in an improved product. No other game comes close to providing the same level of input as well as the same distribution of information. That looks as though it will continue for 2010 and should pay even more dividends.
I know the topic of exclusive licenses is a touchy one. My opinion on how that has affected the Madden franchise isn't in the quality. I still feel it remains a "good" game. The problem lies in that as the only NFL product the goal is to appeal to as many people as possible while attempting to limit anything that could be counter-productive to that. What you get is a vanilla experience that is "good" in most if not all areas. At the same time it isn't exceptional in any but it also won't be terrible in any. There just haven't been any risks taken to carry the series into what people expect from this generation. That is where the license may be restricting the series from reaching its potential.
Madden 09…a good but not great game. Still it remains one that is enjoyed by the masses. For that it makes my Top 10 but lower than where many may have anticipated it would.
#7 Madden NFL 09
#8 Blitz: The League II
#9 NFL Tour
#10 Tiger Woods 09