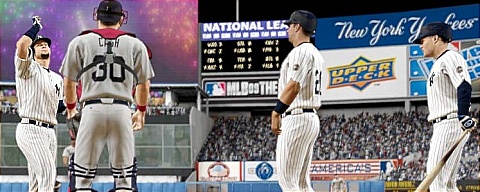 It has become apparent that the mainstream has identified the custom chant creator as the most compelling addition to MLB 09: The Show. Most of the articles relating to the latest info on 09 center around it and focus on that feature in particular.
For as much advancement as it looks like The Show will offer, the ability to record custom chants and yells appears as though it is one of the few features that is completely new to the series. In that regard it shouldn't be a surprise that it has become the most high profile selling point. While fans of the franchise don't need to be swayed with a flashy feature the companies look for these to assist in their game's promotion.
While it sounds like it could add some fun I'm not sure that initial amusement won't wear off quickly. If it was allowed online, even just in unranked games, I think I'd be more interested in it. But as it is I'll probably try it out and it'll be dependent on how natural it sounds and how simple it is to use. I didn't even attempt to utilize NCAA Football 09's custom stadium sounds feature because the process was so convoluted.
The Show is one of the few games that has a fact sheet dominated by improvements to the game and not just what is new. While I would've hoped for something more significant than the chant creator being the biggest addition to the game, that can easily be overlooked by how impressive most other aspects of 09 will likely turn out to be.
So how important is the addition of custom chants, yells, and walk-up music to you? Leave your thoughts in the comments.