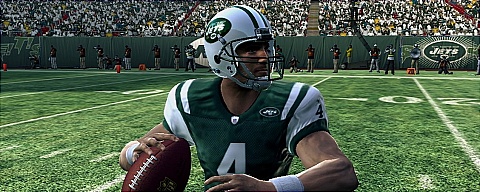 It now looks like the Jets will miss the playoffs after having surged to an 8-3 record only to lose three of their last four games. Along with that Brett Favre has been terrible throwing only a single TD to six INTs. It is only a matter of time before media outlets start chalking up the poor performance of the team and Favre to the Madden curse. The fascination around the supposed curse will now continue as there isn't much room to argue that Favre broke it this year.
Now everything will be scrutinized. From the circus that surrounded his will he or won't he return. To asking for a trade and accepting one to the Jets. And now to his late season struggles. The downward spiral of the team and his performance will have gone to show that even a legend can't overcome the "curse" that is attached to gracing the cover of Madden. He leads the league in INTs yet somehow made the Pro Bowl and has been overshadowed by what Chad Pennington has been able to do with the Dolphins.
Surely all of this will be attributed to the Madden curse. Rather than take into account that the cover was held by a 39 year old QB clearly on the downside of his career learning a brand new system with all new teammates it is much more convenient to ignore all that. Not to mention that probably three quarters of the players in the league would be considered cursed if they had been on the cover with the seasons they are having.
So the Madden curse will continue to be talked about. Not just next year, but prepare for an onslaught of mentions relating to Favre in the near future. Do you believe Favre's year was affected at all by being on the cover? Leave your thoughts in the comments.