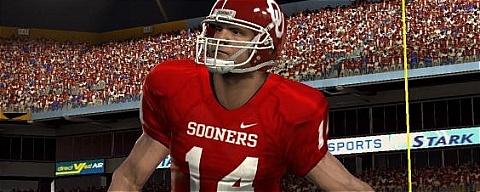 The NCAA Football series has always filled its role as the first football game of the year effectively holding me over until Madden. I'm more of a fan of the pros than college so there is more attachment to Madden. Once that was released I'd turn my full attention to it even though in many cases NCAA was a better game.
That was the case until this year anyway. NCAA Football 09 introduced Online Dynasties which changed the course of sports gaming and how the games can be enjoyed. I'm still playing NCAA to this day in multiple dynasties and have barely touched any others sports game over the last two months. That displays just how much value NCAA 09 offered.
The dynasty setup bypasses the difficulties of leagues in that you can have a dynasty that consists of teams that rarely have head-to-head games. Scheduling becomes less of an issue. Teams also always have something to play for. Even if they aren't in the National Championship hunt there is always building for the future. This allows dynasties to continually progress at a smooth rate. Basically you have the interaction and competition by being involved with other users without the frustrating elements that have plagued online gaming. That would be mainly taking a larger member dynasty into consideration. It should not be forgotten that many of the active dynasties out there consist of 2-4 close friends where more head-to-head may be appealing.
Tiburon delivered the wide open gameplay that was promised with NCAA 09. It still seems to lack some of that "anything can happen" feel as the game leans towards offense but in more of an efficient manner than a big play one. There were some well documented gripes such as the ineffective pass rush, overly accurate QBs, and over-powered kicking. Despite that scores and statistics were realistic when using six minute quarters even with the "wide open" gameplay. Most importantly the games remain fun to play.
NCAA Football has always taken a backseat to Madden. This is the year where it really surpassed it though. While Madden remains somewhat stale avoiding any risks, NCAA took a big innovative leap by adding the Online Dynasty. Not only did it make it my top sports game of 2008 but it stands as a barometer for all future sports titles to live up to.
#1 NCAA Football 09
#2 NHL 09
#3 MLB 08: The Show
#4 FIFA 09
#5 NBA Live 09
#6 NBA 2K9
#7 Madden 09
#8 Blitz: The League II
#9 NFL Tour
#10 Tiger Woods 09