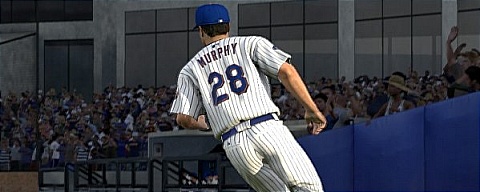 Buried in the extended details on the MLB 09 The Show website are a couple mentions related to online play that were not made in the fact sheet. At first glance I thought they were describing the same thing that MLB 08 had in the Gamecast feature where you could watch ongoing games as they updated the situation (score, outs, match-ups, on-base, ect). However there are some new aspects for 09.
SportsConnect Live GameCast
Using SportsConnect technology, users can view the status of any game in progress in The Show. New for MLB 09, along with a 2D user interface representation, users can hear the play-by-play and color commentary of the announcers.
This looks to be another step towards a spectator mode. Really all that is missing now is the presentation of the game. You have the current situation and commentary which is enough to want to follow it, but at the same time it won't have the same drama or excitement that would come with viewing the entire game live.
The online options also list "King of the Diamond" which sounds like it may be some sort of mini-game. I've always enjoyed having the ability to play something with a shorter time commitment so hopefully that is the what it is. When the OT drill for NCAA Football was online I used to play that a lot, its a shame they haven't brought it back.
Hopefully the online performance has been improved this year as it was one of the few disappointing aspects of MLB 08. The Show series has been very inconsistent and at times unplayable online. That is the first thing that needs to be addressed, though the additions such as these are certainly welcome and will add value as long as performance been improved.