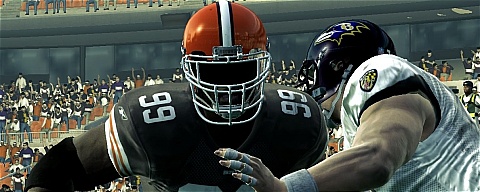 Throughout the year there has been much discussion around the weekly Madden roster updates. For the most part everyone has been pleased with the frequency of them and ultimately ratings are going to be overly-scrutinized and will never please everyone. However there has been some aspects that have come into question. Some of my concerns have stemmed from what appears to be heavy leaning towards past performance and not enough towards the present. This has been seen through examples such as LaDainian Tomlinson on one end when compared to rookies on the other. Joe Flacco was the most recent example I pulled for an article the other day and that generated some interesting comments.
With that all in mind I was contacted by Madden 2010 lead producer Phil Frazier for the opportunity to get some questions answered pertaining to the roster updates. After mentioning essentially what I did in the prior paragraph I received a response back which you can find after the break. With the attention roster updates in general have been getting as of late having a discussion in order to completely understand the process as well as improve on it in the future is greatly appreciated.
After reading it feel free to leave any questions or suggestions you might have in the comments and I'll see about passing those on as well for a follow-up. Also make sure to vote in the poll at the end.
The fun part about ratings is that they are subjective. We have Jon Crankshaw who manages the overall responsibility of the ratings with help from the rest of our design team. Our thoughts about players or teams are really no different than what you see on sports shows. These are our opinions based on what we see on gameday and read about on the net. We of course try our best to rate players accurately and without any bias towards our own favorite teams.
On Flacco…
He'll be moving up to an 82 in the next update but not because of some of the opinions on the web. We watched him very closely in the playoffs and while better than his current rating, he's still an average QB with a great arm. In my opinion, the primary reason the Ravens are in the playoffs is because of their defense, not necessarily Joe Flacco. Flacco hasn't been great in the playoffs and the Ravens are a 'run first' kind of team, throwing only when needed. His regular season numbers are 14TD's with 12 INT's, getting slightly worse in the playoffs. In the end, we feel 82 is a more accurate number than his previous rating.
On our ratings philosophy…
Up to this point, our general ratings philosophy has been to consider a players body of work (past and present) and consistency when generating the ratings. It's certainly possible that this philosophy no longer applies given the new frequency of our updates. I guess you could say we understand why some think our ratings should reflect the NFL as it is today (literally) vs. who we feel is good overall. That's the question of the week for the Madden Team moving forward. What should our ratings philosophy be given the new frequency of our updates? Should each update reflect who's hot and who's not in that given week? If a player has a bad game (or two) should he be hammered in ratings or should we continue to consider his career and previous performance? Based on recent community feedback, it feels like most would prefer more significant changes based on game to game performance. Maybe an online poll would help clarify this?