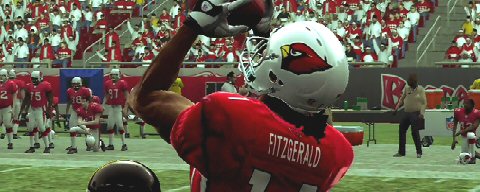 At the mid-point of the season it was Anquan Boldin who appeared to be the WR most deserving of the Madden 2010 cover, though the uncertainty of him remaining with the Cardinals severely hampers the chances of it happening. Then it was Andre Johnson that really emerged and remains one of the favorites based on the regular season. The community seems to like him as a potential choice.
Now with the performance in the playoffs that Larry Fitzgerald has turned in he has to be considered one of the top possibilities. He has broken the record for most receiving yards in a postseason and had three TDs in the NFC Championship game. A total of  five TDs in the playoffs along with 23 catches. The Cardinals have done the completely unexpected by reaching the Super Bowl which just adds to the appeal of having one of their players on the cover.
The only thing that might hold him back is the recent news of a domestic violence accusation. Even though that seems pretty thin EA has attempted to choose players that have a clean background and wide-ranging appeal for their covers as of late.
I'm leaning towards the cover of 2010 going to a wide receiver or a defensive player. If I were to take a guess at this point I see the pick being made out of Andre Johnson, Larry Fitzgerald, Ed Reed, and Troy Polamalu. As always there will be a great deal of discussion around the potential cover athletes heading up to when the announcement is usually made shortly before the draft.