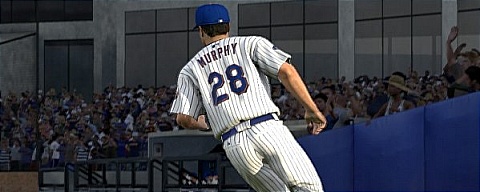 Various media outlets got a chance earlier this week to spend some time with MLB 09 The Show and its developers. Operation Sports has their full preview and has also posted an interview with an online producer. Overall the game sounds like it is pretty much what everyone is expecting. I wish I was able to say the interview made me more confident about online performance this year though.
In real baseball, it is easy enough to figure out who the stars are and why they mean so much to their respective teams. Yet, it is the little things that are done on the field and in the dugout that will ultimately determine which teams are the most successful. In that same way, it is easy enough to realize that the core mechanics of MLB 09: The Show –- hitting, pitching –- are solid overall, but it will take many hours of playing time to decipher whether or not MLB 09: The Show is another game of the year contender.
Last year one of the few weaknesses The Show had was with online play. The performance was very inconsistent and in some cases unplayable and the online leagues had some baffling restrictions placed on them. Those issues are discussed in the interview.
On the gameplay side, what we tried to focus on was just tuning up the experience. So any frame-rate issues you would have seen last year, any hitches with the batter, any release points with the pitcher, we tried to sure those up and tried to make it as close to the offline experience as possible. Obviously there is inherent lag, so there is plenty of trouble doing that, but you're going to get a pretty true experience on the online gameplay side.