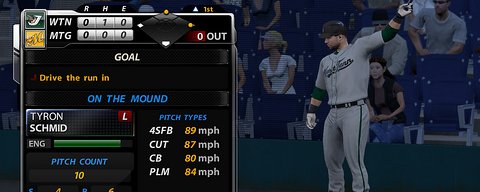 Another entry in the weekly blog series from SCEA, this time concentrating on Road to the Show mode. You can read the blog in its entirety here. There doesn't appear to have been any huge changes but instead several issues that people had with the mode have been addressed or improved upon.
With the new Sounds Of The Show feature, we've been able to support audio customizations that will allow you to pick not only your batter walkup music, but also your reliever entry music and a home run celebration song. In addition to editing custom music, you can also create custom fan chants, cheers, and jeers to assign to your player (or any other player using the Edit Player feature). The player accessories have also seen upgrades to support a variety of new items including: wrist tape, batting gloves in pockets, glasses, eye black, baggy pants, and stirrup socks for your old schoolers.
Despite the changes to baserunning I don't anticipate that area of the game being more interesting, I'll probably continue to play as a pitcher primarily because of it though I much appreciate being able to skip baserunning all together. RTTS is something I plan on spending a good amount of time with at the end of the week. So if you have any questions in relation to it that I may be able to get to make sure to leave them here.