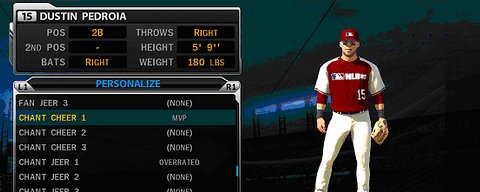 Even though the demo is out there is still much to learn about MLB 09 The Show as the series of Playstation Blog postings continue. This is the second one they've put out this week and focuses on the Custom Chants and Yells feature as well as MLB Music. You can read the entire article which includes some menus screenshots here.
The Custom Chants and Yells feature allows you to record your own voice and hear it in the game, either as a fan yelling from the crowd or as a simulated crowd chant. All you need is a microphone or headset for the PS3 and you can go to town. You can use all sorts of mics such as ones from Rock Band, the PlayStation Eye, and bluetooth headsets, among others. These yells and chants can be added to any player in the Personalize tab, either as cheers or jeers, depending on whether the player is playing at home or away.
This feature was probably the thing that caught the community group by surprise in how well it was implemented. While I'm unsure if I'll spend much time putting chants/shouts together I can definitely see the appeal in doing so.