I've never had any issues with in-game ads being displayed. This is because they have always been a natural fit, actually helping to increase the immersion factor. Seeing advertisements in places you would see them in real life they've makes sense. However with MLB 2K9 they may have finally crossed the line with how they are being inserted.
Thanks to Operation Sports who has provided screenshots of every stadium we can now see how certain ads (specifically Pepsi) are dominant. While it's possible that some of those will be replaced with others dynamically throughout the year, what is of most concern is that 2K has added areas for ads that don't actually exist in real life.
The most obvious example of this is Wrigley Field. A sign in center field has been inserted in order to get the State Farm advertisement in. Presumably this is because the ivy on the outfield wall prevents them from using that space to display their ads. Below you can see the State Farm sign in the 2K9 screen (top) and the real Wrigley (bottom).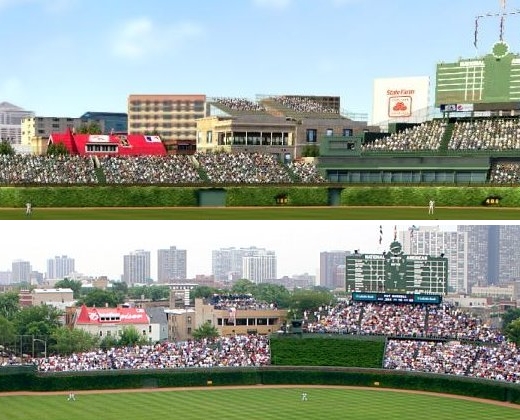 There have also been some more subtle adjustments made to stadiums in order to get ads to fit. There are examples of outfield wall heights that have been made taller than they should be, apparently just to be able to insert a particular ad in that area. The left field at Nationals' Park has been cited as a blatant example of this.
When asked about the State Farm sign in Wrigley one of the 2K9 developers responded by saying "Statefarm is a sponsor of our game and basically just like in actual stadiums where company's pay money to advertise, statefarm pays us to advertise for them so we put up some signs for them."
Again, when advertisements are in the appropriate places there is no reason to complain. However when it begins to affect the games with developers making changes to stadium designs in order to get them to fit or to include additional areas to place them it does become a concern.