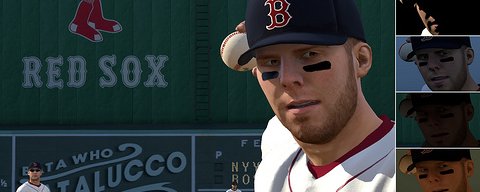 The latest Playstation Blog has some details on the process behind the lighting in MLB 09 The Show. There are even some screenshots included that display sort of how they come together step-by-step. You can check out the full blog posting here.
Lighting was a major focus for us this year, and we implemented a Global Lighting model. What does that mean? It means that objects are lit by their surroundings. It means that when players are in shadow, they can still get light from the sunlight hitting the dirt just beyond the shadow's edge, or a bright wall behind them. It means that in stadiums, red floors cast red light on neighboring objects. It is another step towards that realism we all want in our baseball game.
Coming out of the community preview event this was probably the most discussed improvement made to the game due how drastically it enhances the experience. From the demo you can get a feel for the nighttime progression and the screenshots have highlighted some other examples. But you really need to experience the different lighting situations and in various stadiums to understand the scope of what SCEA has done with the lighting this year.