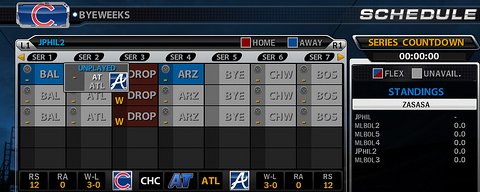 The most recent Playstation Blog entry for MLB 09 The Show details the online improvements coming to the game and contains a strong focus on the online league feature. You can read it in its entirety here.
The draft system rivals that of any fantasy sports system. It allows from 6-30 players to hold a FULL LIVE Draft, with the ability to set your draft day/time, pick timer/length, chat (and harass), view the Player Card/stats of available players, view the Player Card stats of other users in your league drafting. Another integral part of the draft system is the ability to set you draft queue. No matter how much planning you do, there's always a chance you can't physically be at your draft, or you may not be able to stay for the entire draft. That's when the Draft Queue becomes essential.
They also are continuing the league requirements such as needing to wait 14 days from first playing the game and having a certain star rating or above to start one. While I understand the intention is to prevent an overabundance of leagues that never end up going anywhere it penalizes the people who are actually going to utilize the feature properly. This is something they can flip on and off and I'd be satisfied if they were to just turn it off a couple days after release or just monitor and delete ones that are inactive for a certain length of time. It was amusing to think that last year I wasn't able to run a league in their system because of bitter opponents down-rating and having to wait out the time requirement.
While I remain concerned whether the online performance will be suitable this year they did get a lot of great features added in. One thing not mentioned in the blog is that you will not be allowed to use any of the starting pitchers out of the bullpen which was a much needed restriction that will lead to more realistic games.