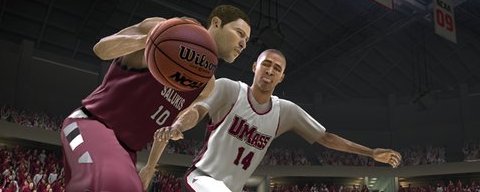 EA has announced that they will be coming out with a downloadable version of NCAA Basketball 09 that offers just the official NCAA Tournament along with updated rosters. This will be exclusive to the Xbox 360 and will release on March 11th. For those who have the full version of NCAA Basketball 09 the Bracket Pack will once again be offered as DLC which includes the roster update and official tournament bracket for free. Gamespot has the full details along with a producer interview discussing the March Madness Edition here.
I'm not sure what to think about this. It could be appealing to people who don't really get into college basketball until tournament time. Maybe all they want to play is something that replicates this year's tourney. For just $15 it may be easier to justify the purchase. At the same time you can find used copies of the full NCAA Basketball 09 for around $25 and that would offer much more over this March Madness Edition.
Once again though this broaches the subject of why NCAA Football has not received a roster update over the past few years. It would be huge if they were able to provide one, maybe after the bowl games have been announced. The last three NCAA Basketball/March Madness games have gotten one at tournament time. I'd love to find out why NCAA Basketball can receive one however when it comes to NCAA Football it seems off-limits.