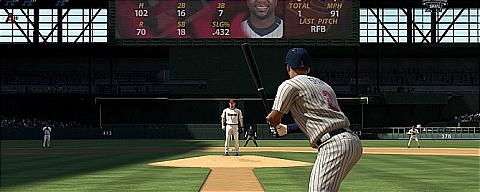 This week's roster update for MLB 09 The Show includes 41 player movements with the highlights listed out below. Last week's update caught most everything up but this time around it includes Manny Ramirez signing back with the Dodgers and Nomar Garciaparra joining the A's. For those of you who aren't connected to PSN you can download the file directly from here.
LF Manny Ramirez moved from Free Agent to Dodgers Position.
DH Nomar Garciaparra moved from Free Agent to A\'s Position.
SP Adam Eaton moved from Phillies Minors to Orioles Starting.
RF Delwyn Young moved from Dodgers Bench to Dodgers Minors.
SS Tony Pena Jr moved from Royals Minors to Royals Bench.
3B Troy Glaus moved from Cardinals Position to Cardinals Minors.
LF Jason Repko moved from Dodgers Bench to Dodgers Minors.
LF Juan Pierre moved from Dodgers Position to Dodgers Bench.
SP Mitchell Boggs moved from Cardinals Relief to Cardinals Minors.