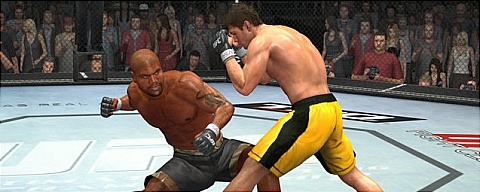 THQ has announced the cover athlete for UFC 2009 Undisputed to be Forrest Griffin. The game will release a few weeks earlier than anticipated on Tuesday May 19th.
"UFC 2009 Undisputed," the first title produced from a multi-year agreement with the UFC and THQ, features most of the organization's top stars, including Brock Lesnar, Randy Couture, Quinton Jackson, Chuck Liddell, Wanderlei Silva, Rich Franklin, Anderson Silva, Michael Bisping, Georges St. Pierre, Matt Hughes, Marcus Davis, B.J. Penn, Kenny Florian and Diego Sanchez. However, Griffin, who first joined the UFC in 2005 after winning "TUF," gets the cover shot. Although his title reign lasted just one fight, the 29-year-old Xtreme Couture fighter remains one of the most popular figures anywhere in mixed martial arts.
It's tough to get a read on just how well this game is going to do. Certainly as a sport it is hotter than boxing but will that translate to the video game? THQ has a spotty record but it seems like they've been giving this one a strong push given it is the start of what will be a yearly or bi-yearly franchise.