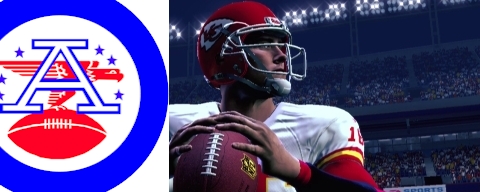 One small piece of news for Madden 2010 that I haven't seen mentioned anywhere has to do with the 50th anniversary of the American Football League. The celebration of the AFL's anniversary is expected to be a big part of the marketing campaign that the NFL pushes this upcoming season. The eight original AFL franchises will be playing each other over two weekends in September and October and they will be breaking out their uniforms from back in the day.
Thanks to the Sports Business Journal more details have been made available on the NFL's plans as well as confirmation that the jerseys will be available in Madden.
Some product is expected to be available by the NFL draft on April 25-26 when Reebok's throwback uniforms will be unveiled. The retro uniforms will also be included in the next version of EA Sports' "Madden NFL" video game.
This should be a pretty neat addition that ties into the actual NFL season. Hopefully the uniforms are in the game and not offered just as downloadable content. It'll be especially interesting as those original AFL franchises go back to their roots with teams such as the Chiefs becoming the Dallas Texans and the Titans playing as the Houston Oilers. The other AFL teams are the Boston Patriots (New England), Buffalo Bills, New York Titans (Jets), Denver Broncos, Oakland Raiders, and Los Angeles Chargers (San Diego).