Throughout the NCAA Basketball Tournament I'm going to feature a game on the slate for the following day. I'll play through one of the games I find most intriguing with NCAA Basketball 09 and post up the results.
While the Bracket Pack is being advertised as out on the XBL Marketplace I don't believe it actually is. You can download it but the updated brackets and ratings don't show up. I've got an email in on this now to find out the situation. So for this first game I just made some adjustments to last year's brackets in order to play it.
A reminder to get your brackets in by tip-off of the first game for the Tournament Challenge. I'll be giving out a 360 3 on 3 NHL Arcade code at random tomorrow pulling a name from the entrants. Full details here.
I'm going to control the favorites in all the featured games. The first one I chose was the 7 vs 10 in the West with California facing Maryland. This is a 2:55 ET tip-off. Continue on for a quick recap, stat screens, and videos.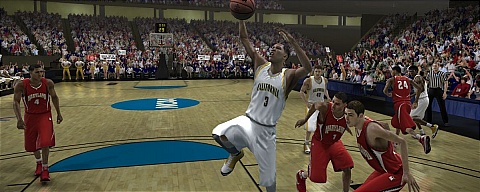 As expected this was a very competitive game. Both teams have strong back court play and that was evident. The two point guards were the stars of this game. Jerome Randall for Cal had 34 points and Maryland's Greivis Vasquez poured in 41.
Cal held an early lead as big as nine and never fell behind by more than four at any point. Things tightened up near the end of the second half as the Terps were able to knock down some big shots and Cal's offense struggled to respond. There were two opportunities to put the game away in the final minute but both shots were off the mark.
The game went into OT and it was still back and forth until Maryland got a huge three from the corner. The final score was Maryland 96 – California 95. You can watch the final two minutes of OT below in HD.
.