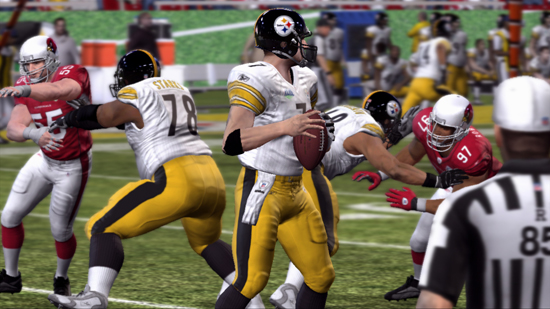 Peter Moore has just released the first screenshot from Madden 10 on his blog. More than just being excited for the first look at the game there are several new additions that can be identified from it. Hand towels, on-field referees, and the chain gang are immediately apparent. Head on over to read the full posting on the subject.
Over the next several weeks you're going to be hearing more about how this year's game is going to continue to push the boundaries of authenticity in gameplay, presentation, and art style.  It's the fight for every yard in the NFL that makes the battles playing out on Sundays throughout the fall and winter so compelling.  From everything I have seen in Madden NFL 10 so far this year, the authenticity of gameplay is showing striking improvement in physics, realism and responsiveness. Having recently sat through a full product review from our team in Orlando, it's abundantly clear that this could be the deepest, most graphically-rich Madden ever, and a stunning testament to the talented development team who have had a maniacal focus delivering a landmark title to Madden Nation in 2009.
Does the "fight for every yard" theme offer any hints towards a cover athlete? There is a good chance that the choice will represent that. So what do you think of the screenshot and what it has revealed? Leave your thoughts in the comments.