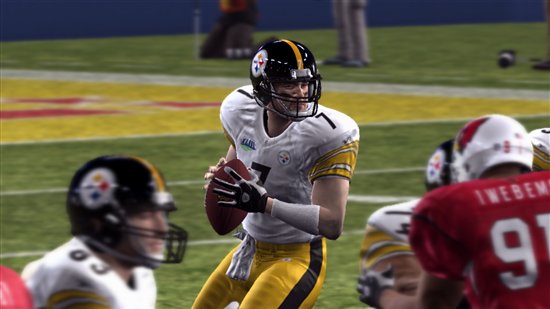 On Monday the first screenshot for Madden 10 was revealed by Peter Moore. Today Art Director Michael Young goes though the numerous improvements or additions that are on display in that screen. The refs, chain gang, and hand towels were the most obvious but there are others such as depth of field, Super Bowl patches and fields, secondary color equipment, and better name layout on jerseys.  You can read up on everything on the Inside EA Blog here.
In today's blog, I'm going to go to really dive into some detail on one of our new features that you likely will have noticed right off the bat: Depth of Field.  In addition, I will talk about the 9 other Madden NFL 10 enhancements shown in the shot unveiled on Peter's blog.
All of that alone would be great but they've gone even further by considering the feedback over the last two days regarding the size of Ben Roethlisberger. Some people felt he looked a little thin so now they've beefed him up a bit. The screenshot above shows the updated Big Ben. Feel free to leave your thoughts on that new screen in the comments.