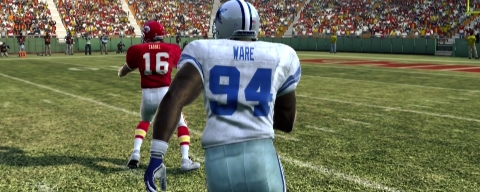 EA Sports has released the next two candidates for the cover of Madden 10. They are Chiefs QB Matt Cassel and Cowboys OLB DeMarcus Ware. The two of them join Ed Reed, Adrian Peterson, Brandon Jacobs, and Ben Roethlisberger.
Ware makes a lot of sense and it is no surprise that he would be included in this group. Outside of Ed Reed and Troy Polamalu it would be Ware and maybe James Harrison as the defensive players who could plausibly be considered for the cover. He had a monster season and the marketing power of having a Dallas Cowboys player could be enormous.
Matt Cassel joins Brandon Jacobs in having no chance in hell at being the cover athlete. Generally the Madden cover is decided prior to the off-season and EA avoids players with uncertainty attached to them. They wouldn't have chosen Cassel given that he was either going to be the backup once again to Tom Brady or be traded.
It's safe to say that the Madden cover won't feature a RB who was nearly out-rushed by his backup, nor will it feature a QB who was uncertain to even have a starting job until he was traded on the last day of February. With three players left to reveal I fully expect to see Larry Fitzgerald, Troy Polamalu, and probably Peyton Manning featured.