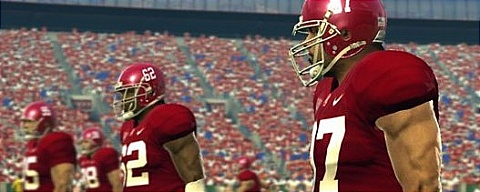 Over at ncaaStrategies they've come across the placeholder box for NCAA Football 10 that is being put on display by Gamestop. The box lists out a few of the features of the game. While some of them have already been discussed there are a couple that as of yet had not. You can check out the details and view a picture of the box over at ncaaStrategies by clicking here.
The one that will likely get the most attention is the return of Create-A-School. Its inclusion has been speculated upon however had not been confirmed until now. Also mentioned are risk-reward game planning and innovative new defensive controls.
The descriptions remain a little vague as they were obviously drawn up prior to posting any of their blogs. We already know that Erin Andrews is the new addition to the broadcasting team for example. So what this means is Teambuilder mode may still be what incorporates the create-a-school aspect. Considering it is described as "revolutionary" it appears there will be a lot more to learn about the mode than just that. After getting through the cover announcements tomorrow additional info on the game is expected to come out of the NCAA event I'll be attending in NY this Thursday.