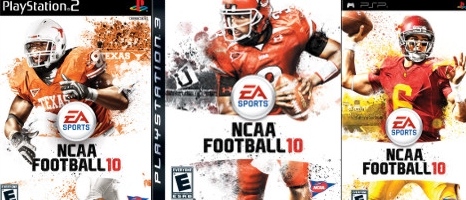 The official announcements are only a couple hours away but most of the covers for NCAA Football 10 are out. Gamestop has posted up all of them except the 360 version. On the PSP it is USC QB Mark Sanchez and the PS2 is Texas DE/OLB Brian Orakpo. Already known was Utah QB Brian Johnson who captured the PS3 version.
I'll be updating this posting when the final cover athlete is revealed. All signs point to that being Michael Crabtree. Thanks for bryan121 for the tip.
Update: Despite EA advertising that all the covers would be revealed on College Football Live today they only announced Brian Johnson. Apparently now this is "cover week".