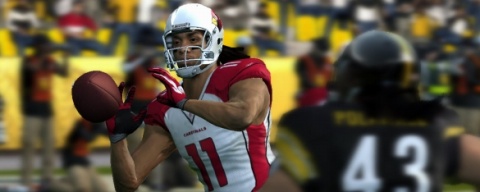 For a long while I've stated my gut feeling on the cover of Madden NFL 10 was that it would feature either a wide receiver or defensive player. It turns out that it will be both. Today EA Sports has revealed the cover of Madden 10 will be shared by Steelers SS Troy Polamalu and Cardinals WR Larry Fitzgerald.
I pegged Larry Fitzgerald as a strong candidate during the Cardinals' playoff run. He broke the record for yards receiving in the playoffs where he caught seven TDs along with those 546 yards on 30 receptions. Three of the TDs came in the NFC Championship and two in the Super Bowl.
On the other side of the ball Troy Polamalu was the most likely choice for a defensive player. He is well known due to his frantic style of play and his hair makes him easy to recognize on the field. He comes in representing the Super Bowl Champions which is something new for the cover. He had an INT taken back for TD that sealed the win in the AFC Championship and came off a big season where he picked off seven passes.
Fitzgerald will be appearing on Late Night With Jimmy Fallon tonight where he will be discussing being on the cover. They will also be playing the game on the show which means a glimpse at some gameplay.