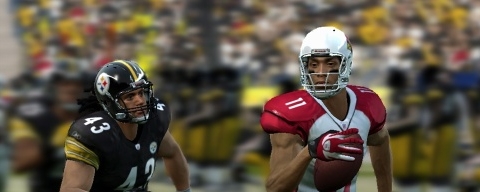 Today is shaping up to be a an extremely exciting one for the NFL and Madden 10. It's round one and two of the NFL Draft which right now looks to be one of the most intriguing and unpredictable ones in memory. But also as the draft progresses there will be a lot of Madden content to go along with it.
EA Sports Live will be airing throughout the first round with special guests in studio and calling in. For the first rounders once they are selected their screenshot in their respective uniform will be posted along with their player ratings. For the second rounders it will just be the ratings.
I'll have running commentary on the site from the start of the NFL Draft and through the end of round two along with updating through Twitter. I'm also scheduled to call into EA Sports Live at some point during the day.
For those of you who missed it check out my Twitter feed where I was able to break some Madden 10 ratings info yesterday. Enjoy the draft and be sure to stop in for the collection of content and running commentary all day long!