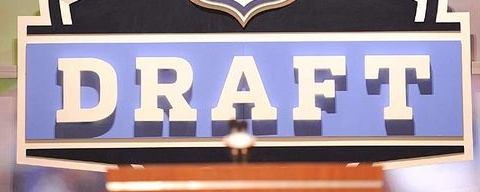 I will be updating this posting constantly throughout the day. Included will be thoughts on the NFL Draft, the latest Madden 10 rookie screenshots, the latest in player ratings, and the impact the selections will have on the game.
The Madden Draft website is now up including live streaming video from the EA Sports war room. The EA Sports Live broadcast begins at 330et/1230pt.
I am scheduled to be on EA Sports Madden Draft Experience live show sometime between the 20th and 25th picks.
Check out a couple of the interviews from Thursday night conducted by myself and Chris Jacobs of ncaaStrategies. Erin Andrews – Brian Orakpo – Brian Johnson
Aaron Curry with an 85 overall rating. Along with Michael Crabtree they'll be the highest rated rookies.
1245: EA Sports Live is now on the air with Shannon Sharpe in the studio.
1247: Matt Stafford screenshot and ratings should be up right after he is officially announced by the commish
1249: Troy Polamalu 99 rated overall
102: NFL Network draft coverage > ESPN draft coverage. Damn you Comcast, only six days till the network is gone
107: Matt Stafford's ratings: 79 overall, 97 throw power, 87 accuracy short, 83 accuracy mid, 82 accuracy deep
110: Stafford screenshot added to the gallery
115: Jason Smith to the Rams. That's the smart choice for them.
121: Jason Smith 84 overall rating
122: Jason Smith screenshot added to the gallery
125: The Tyson Jackson pick by the Chiefs seems like a reach to me. He fits their 3-4 seems like thats the reason.
130: Tyson Jackson 77 overall rating
135: Not terribly excited by the Aaron Curry pick but he'll fit in well
135: Seahawks do get the #1 rated rookie in him though
139: Jets trade up to #5 for Mark Sanchez. Didn't think they had the ammo to do that
145: Mark Sanchez overall rating 77
151: Well the Bengals needed an OT. I just would've taken Eugene Monroe over Andre Smith
153: Andre Smith is rated 79 overall
157: The Raiders are hilarious. Taking Darrius Heyward-Bey at #7. Michael Crabtree is probably wondering what the hell just happened.
201: Heyward-Bey gets a 76 overall with 97 speed
206: Jags pass on Michael Crabtree and take Eugene Monroe. They needed an OT but I don't see how you pass on Crabtree there considering their problems at WR.
210: BJ Raji to the Packers. I had them going for a pass rusher like Orakpo but he can fill their NT in the 3-4
212: 82 overall for Eugene Monroe
220: BJ Raji with an 80 overall
221: Michael Crabtree is an 84 overall. He'll boost the 49ers but they still dont have a QB.
226: Bills needed pass rush. Aaron Maybin fits as a DE more than Orakpo.
227: Crabtree is somewhat limited by 88 speed but he'll be maybe the most impactful rookie in Madden
231: Surprised by Knowshon Moreno to the Broncos. They've never needed a big name RB in their running scheme and they just signed two backs in the offseason.
233: Redskins probably didn't imagine Brian Orakpo would still be around
234: Aaron Maybin is a 78 overall
237: Moreno is an 81 overall
239: Mark Sanchez screenshot added to the gallery
242: Malcolm Jenkins fills the need in the Saints secondary
244: Aaron Curry and Tyson Jackson screens added to the gallery
246: Brian Orakpo with an 82 overall rating
246: Cushing is a good addition to the Texans. Too high to take the safety they need
248: Malcolm Jenkins is an 80 overall
252: Brian Cushing a 78 overall with 94 pursuit
253: Larry English this early is a bit of a surprise
255: Larry English a 75 overall
257: Browns trade with Bucs. Is this Josh Freeman?
301: BJ Raji screen added to the gallery
304: Josh Freeman is a 72 rated overall with 96 throw power
306: Robert Ayers to the Broncos. No doubt they were going defense there.
313: Browns trade down AGAIN this time with the Eagles
315: Robert Ayers a 78 overall
316: Alright so Jeremy Maclin to the Eagles. Isn't he just a second DeSean Jackson?
319: Maclin is 79 overall with 96 speed
320: Lions pass on an offensive lineman for Brandon Pettigrew. Interesting
325: Earlier than I thought Alex Mack would go. The Browns already have so much money invested on the offensive line
328: Vikings take Percy Harvin. Its a gamble. They have their speedster already in Bernard Berrian.
336: Great pickup for the Ravens with Michael Oher this late
339: Percy Harvin is 78 overall and 96 speed
340: Brandon Pettigrew 81 overall, third best blocking TE in Madden 10
342: Alex Mack 79 overall. Graded high in many categories
345: Michael Crabtree, Andre Smith, Eugene Monroe, and Darrius Heyward-Bey screenshots up in the gallery
346: Knew the Falcons really wanted a DT. Peria Jerry being available was ideal for them
348: Vontae Davis to the Dolphins. They needed a CB.
350: Michael Oher 78 overall, 95 strength
352: Knowshon Moreno, Aaron Maybin, Brian Orakpo, and Malcolm Jenkins screenshots added to the gallery
356: Brian Cushing, Larry English, and Josh Freeman added to the screenshot gallery
357: Clay Matthews for the Packers. The OLB I thought they would've went for in the first pick (Orakpo, Maybin). Nice to have him behind BJ Raji.
359: Vontae Davis overall rating 0f 78
400: Donald Brown before Beanie Wells. Guess its durability concerns with Wells.
403: Clay Matthews a 75 overall
408: Im going on EA Sports Draft Show shortly
410: Donald Brown 77 overall
416: Talked about Madden 10 on the show. Nice job by Jason Thompson in pronouncing my name correctly both times.
417: Was hoping Hakeem Nicks might fall to the Seahawks. Thats a nice pick there for the Giants
418: Eric Wood 74 overall
419: Titans did need a WR and Kenny Britt has big time potential
420: Hakeem Nicks 78 overall
427: Cardinals go with Chris "Beanie" Wells as expected. Big improvement if he can stay healthy
430: Kenny Britt 77 rated overall
432: Steelers go Evander Hood. Very nice DT. Thought they would go o-line or CB here though
433: Jeremy Maclin and Robert Ayers screens added to the gallery
435: Chris Wells is 79 overall, 89 speed, 90 trucking
436: I like Louis Delmas but damn the Lions keep passing up o-line
437: And just like that another safety Patrick Chung. They needed a safety and he impressed me at Oregon.
439: Evander Hood 74 overall
442: Percy Harvin, Alex Mack, and Brandon Pettigrew added to the screenshot gallery
450: I really like Alphonso Smith. Experienced CB for the Broncos.
453: Seahawks got the Broncos first round pick next year out of that trade. Kyle Orton at QB. I feel good about that.
505: Peria Jerry, Vontae Davis, and Clay Matthews screenshots added to the gallery
516: Donald Brown and Eric Wood added to the gallery
526: Pat White to the Dolphins. Hey I called that in my mock draft!
539: Chris Wells and Hakeem Nicks added to the gallery
542: Alright I'm wrapping up the live running commentary but there are still a few more screenshots I'll be adding in once they are up. I'll be posting an article late night or tomorrow morning with the winners and losers today for Madden 10. Thanks for following along!
602: Second round overall player ratings are being posted here